A Manual for Developing Humans by P. M. H. Atwater
Editorial Team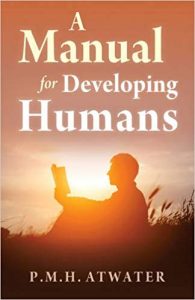 This manual is far more than just a guidebook to help people, it's the accumulation of what P.M.H. Atwater has learned in her 80 plus years of this lifetime. This includes having three near-death experiences in 1978 and writing 15 books on this and related subjects.
Atwater's latest work comes crammed with practical, down-to-earth information helping us to link the worlds of humanity and spirituality. It has often been said that life does not come with a book of instructions. Forget that now, because Atwater has filled the void. In her own words each section is crammed with as many "how-tos" as possible, covering the major areas of life.
The conscious mind, the subconscious and the superconscious aspect are the three chapters that get the ball rolling. After that the author dives into the depths of the physical in the worlds of humanity as well as energy and spirit aspects. And this is just the tip of the iceberg as there is a lot more amazing information to explore–too detailed to go into in a brief review.
If you have ever expressed a desire to explore the so-called mysteries of life, you will find most of the answers in this book.
In my long career as a broadcaster I have read thousands of books and interviewed many hundreds of authors, however this is one of the most absorbing and important works I have read. I find its huge range of topics not only fascinating and uplifting, but it provides the kind of answers so many people are seeking in our troubled world.
The title may sound a little formal, but it is beautifully written and a surprisingly easy book to read.
A Manual for Developing Humans is a book to be treasured as well as shared.
Reviewed by Barry Eaton, RadioOutThere.com