Hess and the Penguins by Joseph P. Farrell
Editorial Team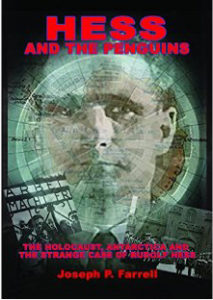 One of the great mysteries of the 20th century surrounds Adolf Hitler's deputy, Rudolf Hess. In 1941, he flew on an alleged peace mission to Scotland where he was arrested and held in British custody until being returned to Germany in 1946 to testify at the Nuremberg trials. After this he was sent to Spandau Prison in Berlin, where he remained until his 1987 "suicide". Nothing is as it seems in this "Hess Mess", says historian Joseph Farrell in his new book (also see reviews in 23/05, 22/06 and 21/06).
Among the many unresolved issues are the deep-state politics and royal machinations surrounding the plot to overthrow Hitler, alleged mind-control drugging and the involvement of MK-Ultra pioneer Dr Ewen Cameron, the apparent deployment of a body double, which helps account for the strange behaviour of "Hess" at Nuremberg, and the seeming impossibility that "Hess" could have committed suicide as a frail 93-year-old. In addition, Farrell exposes disturbing material suggesting that there were plans even before World War I to exterminate six million Jews.
As for penguins and Antarctica, Farrell discounts the idea that there was ever a Nazi "secret base" there, let alone any UFO agenda. But he acknowledges that the 1938–39 scientific expedition was linked with "Greater" Germany's geopolitical designs and gives credence to its moves for a permanent stake in Antarctica, perhaps taking over Norway's unexplored territories.
There's no shortage of intrigue in Farrell's speculative probe.
Reviewed by Ruth Parnell