Medical Medium: Thyroid Healing by Anthony William
Editorial Team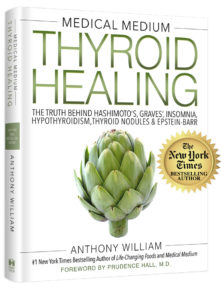 This is William's third book in the Medical Medium series. He previously released Medical Medium (reviewed NEXUS 24/02) and Medical Medium Life-Changing Foods (NEXUS 24/06).
The thyroid is the new hot topic in health. Across age groups, from Baby Boomers (and their parents) to millennials, more and more people—women especially—are hearing that their thyroids are to blame for their fatigue, weight gain, brain fog, memory issues, aches and pains, insomnia, hair loss, hot flashes, sensitivity to cold, and more.
As the thyroid has been gaining greater attention, these symptoms haven't gone away—people aren't healing. Labelling someone with Hashimoto's, hypothyroidism or the like doesn't explain the myriad health issues that a person may experience. That's because there's a pivotal truth that goes unnoticed: A thyroid problem is not the ultimate reason for a person's illness. A problematic thyroid is yet one more symptom of something much larger than this one small gland in the neck. It's something much more pervasive in the body, something invasive, that's responsible for the laundry list of symptoms attributed to thyroid disease.
Empowering readers to become their own thyroid experts, William explains in detail what the source of the problem really is, including what's going on with inflammation and autoimmune disease, then offers a life-changing toolkit to rescue the thyroid and bring readers back to health and vitality. It's an approach unlike any other, and as his millions of fans and followers will tell you, it's the approach that gets results. Includes photos and recipes.