Other Lives, Other Realms by Karen Joy
Editorial Team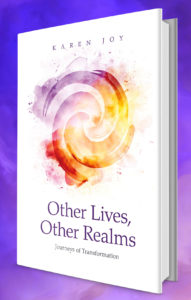 With years of experience in psychology and hypnotherapy behind her, Karen Joy trained as a therapist in past-life and life-between-lives regressions with The Newton Institute (TNI) five years ago. Joy has since conducted hundreds of regression sessions with clients and guided them towards receiving the information they need in order to change their lives for the better.
For her book, Joy has chosen over 50 case studies to illustrate the reality of past lives and the benefits of this form of regression therapy. She asserts that in our present life we can repeat past-life relationship patterns and emotional and physical traumas, but it's in our power to accept and resolve these issues.
Joy's clients have been able to rediscover their life's purpose and goals, understand why they chose their present-life body, meet loved ones from "the other side", grasp "the big picture" and discern what soulmates are all about. Their transformative experiences show that this guided technique has much to offer in helping people become more of who they truly are.