Past Lives Unveiled by Barry Eaton
Editorial Team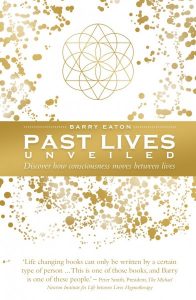 Author and broadcaster Barry Eaton is somewhat of a specialist on the afterlife, having written three books, given countless presentations at seminars, including the 2011 and 2014 NEXUS Conferences, producing articles and writing book reviews on the subject.
Eaton's books include The Joy of Living (co-authored by Anne Morjanoff) on postponing the afterlife (reviewed 24/04), No Goodbyes: Insights from the Heaven World (21/03) and Afterlife (18/03).
In Past Lives Unveiled, Eaton takes a fresh, new look at past lives and reincarnation and examines how consciousness moves between lives. He discusses soul groups, whether our past lives really catch up with us in the present, and the reality of the spirit world. He features some highly unusual case studies, including two intriguing hypnotic regressions by eminent psychologist, author and past life expert Dr Michael Newton. Two sisters were regressed independently by Dr Newton and went back to life in a Stone Age tribe, details of which have until now been limited to members of the Newton Institute. For this latest work, Eaton was regressed by Peter Smith, a past-life expert and international president of the Newton Institute (Smith has also contributed to NEXUS). Graphic visitations to ancient Greece and also the US at the time of the Civil War make absorbing reading.