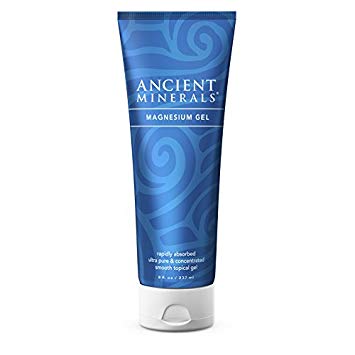 Ancient Minerals Magnesium Gel 237ml
$42.95
Ancient Minerals Magnesium Gel includes a combination of Magnesium Chloride and biologically active, certified organic Aloe Vera extract (ACTIValoe®), which offers a wide range of skin benefits both as a massage gel and as a topical skin treat. The transdermal delivery of magnesium can be an ideal way to boost magnesium levels and, when used during massage, this gel works to increase circulation and relax muscles and joints. The inclusion of Aloe Vera in this unique formula allows it to remain hydrated on the skin, rather than being fully absorbed, making it a useful aid for dry skin conditions, including mild forms of eczema
Description
Ancient Minerals Magnesium Gel Plus combines the healing power of magnesium chloride with biologically active, certified organic aloe vera extract.
Magnesium gel is a form of transdermal magnesium, a new method of magnesium supplementation designed to deliver magnesium topically for rapid absorption into the cells
A powerful combination of magnesium and bio-active aloe vera
Significant for massage applications
Highly therapeutic for psoriasis, eczema, and other skin conditions
Efficient at delivering extensive topical and cosmetic benefits
Ingredients: Water, Genuine Zechstein® magnesium chloride, hydroxypropyl starch phosphate, certified organic aloe barbadensis leaf juice.
One mL contains approximately 100 mg of elemental magnesium.
Product Application and Usage
Due to its gelled composition, this unique formulation performs exceptionally in applications that involve tissue manipulation, such as massage therapy. Above traditional massage gels, however, Ancient Minerals delivers superior performance while also delivering high amounts of magnesium into the tissues for both topical and whole body benefits.
Ancient Minerals Magnesium Gel Plus offers a broad range of benefits for skin tissue, and is ideal for addressing skin conditions such as:
Psoriasis
Eczema
Dermatitis
Acne
Simply apply desired amount into a cupped hand and rub into the skin thoroughly. Repeat as appropriate to treatment regimen, covering any areas needing special attention. Ancient Minerals Magnesium Gel is a unique formulation designed to remain hydrated on the skin rather than fully absorbed.