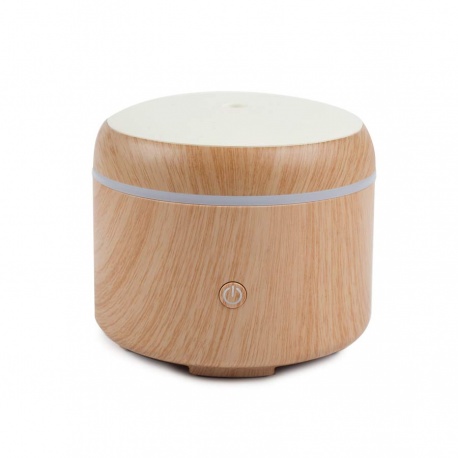 Aroma-Mod wood-look Aromatherapy Diffuser
$55.00
NOT AVAILABLE FOR SHIPPING OUTSIDE AUSTRALIA
Lively Living's Aroma-Mod Wood Look Aromatherapy Diffuser – Australian Owned – BPA Free – 1 year Warranty
Innovative & stylish the Aroma-Mod cool-mist diffuser features a minimalistic design and with multiple power options, is perfect to use in your home, car or office.
Description
Ultrasonic Diffuser/Vaporiser, ioniser, air perifier, humidifier & mood light. Producing a cool mist, the diffusers operate without a heat source, Each unit offers 5-in-1 multi functions and the added safety of automatic swtich off.
5 in 1 multifunctions
Operates up to 4 hours continuously  (no intermittent function)
60ml Water Capacity
Uses Ultrasonic Cool Mist technology
Comes with USB cord with standard wall plug
Fits in most cup holders in vehicles.
No heat source used
Auto switch off on low water level
Product size 9cm diameter x 7.5 cm height
Ideal for desktops, personal spaces, caravans & vehicles
The Aroma-Mod is cleverly designed to travel safely in most car cup holders & features a USB power cord to suit many modern cars.
Please note: The Aroma-Mod may fit into some 'expandable' cup holders in some vehicles – may not fit smaller cup holders.
The USB power cord is perfect to use through a computer on your desk as well. Plus, the included standard wall adapter allows the Aroma-Mod to be used in any room in the home.
The Aroma-Mod will instantly purify, cleanse and refresh the atmosphere and create healthy negative ions to improve air quality. The essential oils are easily absorbed, allowing you to enjoy the many benefits of aromatherapy all day long.
The subtle strip of colour changing lights can be set to flow through the different colours, set to a specific colour, or completely switched off.
PLEASE NOTE: NOT AVAILABLE FOR SHIPPING OUTSIDE AUSTRALIA