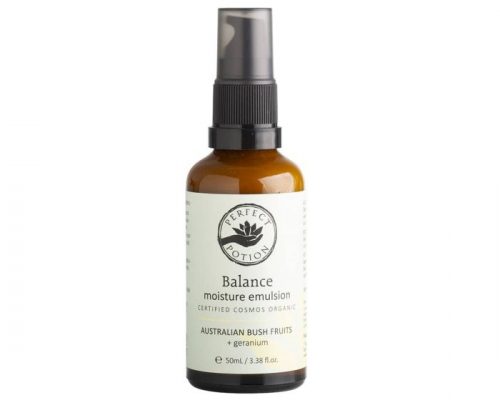 Balance Moisture Emulsion
$44.95
Perfect Potion's Balance Moisture Emulsion 50ml with Australian bush fruits and geranium
Certified COSMOS Organic
For oily and combination skin.
Description
This ultra-light lotion is readily absorbed by your skin leaving it feeling soft, hydrated and balanced. It moisturises your skin without clogging pores and leaves it shine-free. Balances oiliness and calms acne-prone skin. Especially suited to hot, humid climates.
Key Ingredients
AUSTRALIAN BUSH FRUITS + geranium
Australian Native Extracts
Davidson Plum: Anti-inflammatory and antioxidant. Protects against oxidative damage.
Quandong: Improves skin exfoliation. Encourages the synthesis of collagen and elastin. Draws moisture to the skin thereby improving hydration.
Lemon Aspen: Anti-inflammatory. Promotes skin healing. Anti-bacterial.
Botanical Actives
Aloe vera juice: Hydrating and soothing.
Key Essential Oils
Geranium, Juniper Berry, Lavender: Balance oiliness and awaken your senses.