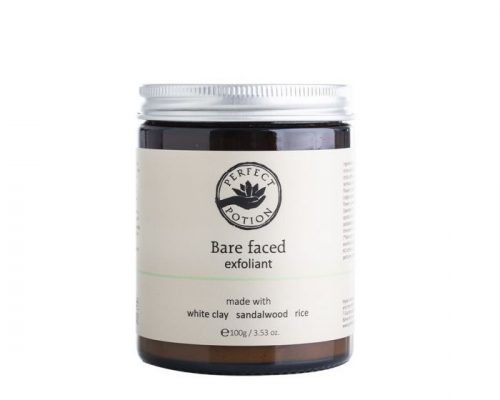 Bare Faced Exfoliant
$36.95
Perfect Potion's 100g Bare Faced Exfoliant
For most skin types. Fine granules of rice combined with elderflowers, sandalwood and chamomile reveal fresh, soft smooth skin.
Description
Fresh, soft, smooth skin is revealed as fine granules of rice along with elderflowers, chamomile and lavender exfoliate away skin cell build-up. Kaolin and white clay absorb impurities while sandalwood essential oil calms the skin and senses.
A concentrated, fine granuled facial exfoliant.
Removes dead skin cells.
Reveals fresh, soft, smooth skin.
Helps prevent and reduce pore blockage.
Allows for better absorption of serums and moisturisers.
How to use
Mix one teaspoon with one to two teaspoons of water into a smooth paste. Massage gently in circular movements over a clean, damp face, neck and décolletage. Rinse to remove.
May also be used as an absorbent mask and left to dry for approximately 15 minutes before removing and rinsing well.
As an alternative to water use floral waters, herbal infusions, fruit pulp or yoghurt. Follow with a Fine Tuning Solution, serum and moisturiser that best suits your skin's needs.