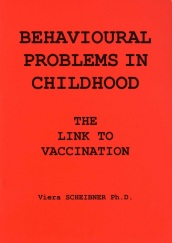 Behavioural Problems in Childhood
$25.00
The Link to Vaccination by Viera Scheibner PhD (paperback)
Description
The increasing prevalence of neurological and behavioural disorders in children is due to vaccinations, argues Viera Scheibner, PhD. These have become worse in recent years with the vaccination of much younger children with increasingly toxic vaccine (and antibiotic) cocktails against diseases which actually boost natural immunity.
Since the 1993 publication of her first book, "Vaccination", Dr Scheibner, a retired principal research scientist, has become a vocal anti-vaccination activist who has lectured in Australia and the UK and appeared as an expert witness in court cases. Here she has assembled some disturbing medical data and identified a number of categories of disorders which are directly linked with vaccination regimens: disorders of motor, sensory and perceptual systems, of arousal, attention (e.g., ADD, ADHD), cognition and memory, of language and learning, drive, affect and socialisation, and of behaviour. These disorders are not generally recognised as being linked to vaccines. Fortunately, some medical professionals are now making a stand, e.g., over the MMR vaccine link with autism and bowel disease (see deBriefings, NEXUS 7/04).
Dr Scheibner maintains that "vaccines are mind-altering toxic substances which can lead to addictions and criminality", and worries about the future of society when this overvaccinated and overmedicated generation comes of age. By being aware of this wealth of medical research linking behavioural problems and vaccination, parents can at least make a more informed choice about vaccination—or understand why their vaccinated children are behaving so erratically.