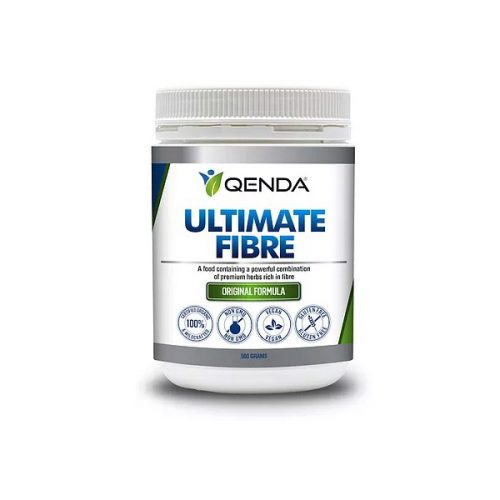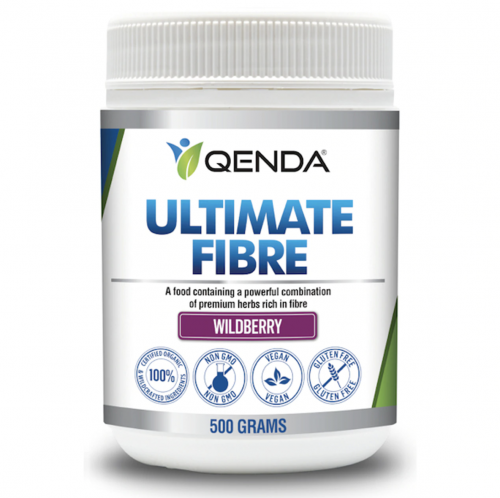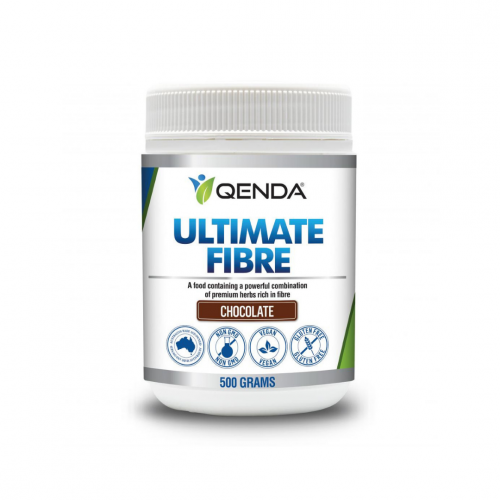 Ultimate Fibre – 'Bowel Restore'
$99.00
Qenda's Ultimate Fibre Formula 500g – Certified Organic & Wildcrafted Ingredients
Available in Original, Wildberry or Chocolate flavours.
A balance of nutrient dense herbs rich in fibre, vitamins, minerals, antioxidants, enzymes and adaptogenic herbs
Previously know as Qenda 'Bowl Restore'.
Description
Helps maintain regular bowel movements
Aids elimination of waste, toxins and parasites
Supports a healthy digestive tract. Has a thorough, gentle cleansing effect on the bowel. Assists in healthy stool formation and prevention of diarrhoea, constipation and flatulence. Daily source of high quality organic soluble and insoluble fibre promotes healthy digestion, blood sugars, cholesterol and general wellbeing.
Layers and layers of decayed fecal matter packed into your colon walls cause hidden constipation, gas, bloating, fatigue, abdominal pain, and ― even worse ― health problems you never suspected were related! Frightening new reports show how these toxins stored for years inside your colon can leak out and poison your cells and other organs!
A food containing a powerful combination of premium herbs rich in fibre.
Excellent Organic Source of Dietary Fibre
Dietary Fibre Assists Regular Bowel Movements*
One Serve Provides 40% of the Recommended Daily Intake For Dietary Fibre
100% Certified Organic and Wildcrafted IngredientsContains premium adaptogenic herbs
NON-GMO Ingredients
VEGAN
Gluten Free
Ultimate Fibre is good source of iron. One Serve Exceeds 50% of the Recommended Daily Intake For Dietary Iron. Iron is:
Necessary for normal immune system function*
Necessary for normal cell division*
Necessary for normal blood formation*
Necessary for normal energy production*
Contributes to normal cognitive function*
Contributes to the reduction of tiredness and fatigue*
Necessary for normal oxygen transport*
*When made up as directed and in the context of a healthy diet involving the consumption of a variety of foods.
Certified Organic & Wildcrafted Ingredients
Qenda Ultimate Fibre contains the following certified organic and wildcrafted ingredients from nature: PsylliumHusk, Black Walnut Hulls, Hibiscus Sabdariffa, Liquorice Root, Horsetail, Rosehip, Oat Straw, Slippery Elm Bark,Cascara Bark, Marshmallow Root, Cinnamon Verum Bark, Irish Moss, Yucca Root, Turkish Rhubarb (RheumPalmatum), Chlorella Vulgaris, Turmeric, Bladderwrack, Astragalus Membranaceus Root, Ashwagandha Root,Meadowsweet, Barberry Bark, Dandelion Root, Aloe Ferox, Wormwood, Skullcap (Scutellaria Lateriflora), FennelSeed, Passionflower (Passiflora Incarnata), Mullein Leaf, Violet Leaf, Paw Paw Leaf, Witchhazel#, Clove Bud.
Colour, texture and appearance of product may change due to seasonal variations.
#Wildcrafted when Certified Organic not available.
Serving Suggestion
Ultimate Fibre should be taken once or twice daily, on an empty stomach, 15 – 30 minutes prior to meals with plenty of water (minimum of 300ml).
Adult: 40kg & Above
Add 1 – 2 scoops of Ultimate Fibre in 300 – 400ml of water in a shaker bottle.
First add water then powder to prevent powder from sticking to bottom of the shaker bottle.
Put lid on securely and shake for 10 – 15 seconds.
Drink down immediately.
If left for a short period after shaking liquid will become thicker. If this occurs, add some more water, re-shake and drink.
DAY 1 Take 1 scoop prior to breakfast.
DAY 2-7 Take 2 scoops for the next 6 days prior to breakfast.
WEEK 2 Take 2 scoops twice daily prior to breakfast and dinner for a period of 2 – 8 weeks until satisfied that full detoxification has been achieved.
ONGOING Once major detoxification has been completed and a level of homeostasis has returned as indicated by regular bowel movements around 3 times a day, it is recommended to continue on 2 scoops once per day most days for another 1- 2 months.
Children & Under 40kgs: Halve adult serve.
It is highly beneficial to add in probiotics, enzymes and fermented foods to your diet to repopulate friendly bacteria, reduce inflammation and promote positive genetic expression.
Some mild detoxification symptoms may be experienced when using this product. Perseverance is recommended in order to achieve maximum results.
Drink plenty of clean water every day and always eat high quality organic, local, chemical-free, GMO-free foods to ensure optimal health.
Organic farming methods are always the healthiest choice for our body and planet. Conventional farming methods can damage our environment and health due to the use of herbicides, pesticides and fertiliser run off. Qenda Formulations only contain the highest grade organically grown herbs in every formula.
Warning
People taking prescription medications should consult with a nutritionally minded health practitioner prior to taking any product. Some herbs within this formula are not recommended for pregnant or breastfeeding women.
Qenda's Core Principles
Qenda never uses any artificial flavours, colours, sweeteners or preservatives in their powdered products.Qenda's ingredients are always organic, vegan, non-gmo and gluten free.Qenda batch tests it's ingredients and products for safety and to ensure purity from herbicides, pesticides, fungicidesand heavy metals. All Qenda products are also free from pathogenic moulds, yeasts, funguses and unwantedbacteria. All Qenda products are manufactured in a clean, chemical free, HACCP certified facility to the highestquality and standards.