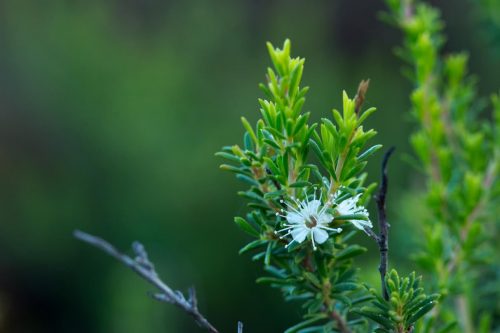 Ducane Kunzea Oil
$33.00
Duncane Kunzea Oil 14mL – a new natural essential oil of Tasmania
Description
Background
Kunzea Oil was discovered in 1993 when Tasmanian farmer John Hood decided to do some investigating after he realised his 35-year-old northern boundary fence hadn't gone rusty like all his other fences of a similar age.
He eventually worked out that the wire fence netting had been protected by an oil from a certain type of plant which was growing near the fence and rubbing against it.
Hood had the oily plant identified as Kunzea ambigua, a Tasmanian native found in the Eastern parts of the State.
Given its obvious rust inhibiting properties, Mr Hood decided that the oil must contain a fairly powerful antioxidant and that got him thinking about other uses for antioxidants.
He became totally convinced that the oil had medicinal properties after an incident one day when he spilled some of a sample he had distilled on to his hand and then rubbed his nose. At the time he was sufferring from a very badly blocked nose, having developed a severe sinus problem from nasal damage he incurred when working in a gold refinery a few years earlier. The immediate result was that it 'blew the sinus problem away' he said.
Hood then began a period of research and development which was to culminate in the Theraputic Goods Administration granting approval for Kunzea Oil to be used as a medicine for external use.
In 1998 the University of Tasmania's Aquahealth testing laboratory found that Kunzea Oil was an effective killer of bacteria that are life threatening to humans and resistant to antibiotics.
Currently doctors in France are evaluating the oil's clinical potential.
Uses
The temporary relief of the pain of arthritis
Relief of the symptoms of influenza
Relief of muscular aches and pains
Helps relieve nervous tension, stress and mild anxiety
Temporary relief of the pain of rheumatism
Helps heal cuts and bruises
Users of Du Cane Kunzea© Oil have found it helpful with certain forms of excema, dermatitis, rashes, undernail infections, leg ulcers and chillblains.
They have also found that it eases pain from insect bites, minor burns, shingles and migraine headaches.
It can also be used as a bath oil, using 4-5 drops and in a vapouriser, 1–2 drops.
Recent test results have shown that Du Cane Kunzea© oil has the ability to kill yeasts, moulds and bacterial infections including the superbug golden staph which is resistant to almost all antibiotics.
DIRECTIONS FOR USE
Your health care practitioner may advise you to apply neat by dabbing on with fingertips or rub in gently.
For massage mix with carrier oil (vegetable) to slow down the absorption rate.
NOTE: For tender skin dilute as required with a vegetable oil. Initially dab on small amount behind the ear to test skin tenderness.
People who have used DU CANE KUNZEA© OIL have found that when treating gout a rash may develop on parts of the foot and ankle. This is a cleansing or healing rash, the uric acid being purged out through the rash, the itchiness of which is controlled by the DU CANE KUNZEA© OIL.
Do not use for the treatment of genital herpes.
CAUTION: Do not apply undiluted to skin except on the advice of a health care practitioner. Avoid contact with the eyes. External use only. Keep out of the reach of children. If ailment persists seek medical advice. Do not store in plastic. Store below 30 degrees C.