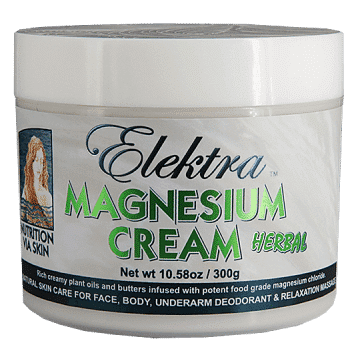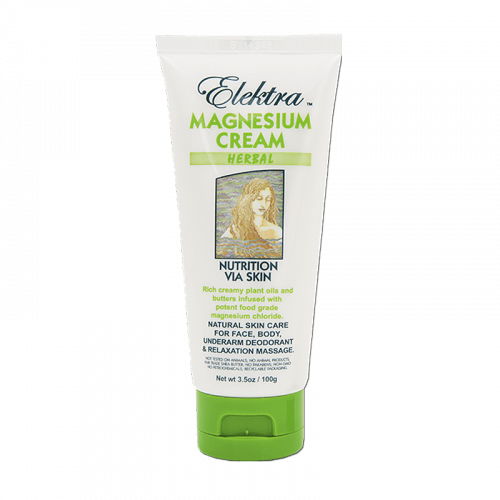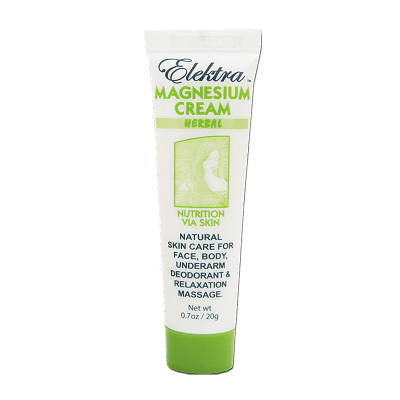 Elektra Magnesium Cream Herbal
$6.60 – $77.00
'Herbal' Elektra Magnesium Cream has soft herby-minty aromas and a richer buttery finish designed for those with extra dry, thin or sensitive skin. It offers a comforting creamy texture for extra skin barrier protection, as well as a healing blend of anti-microbial herbal extracts. It's earthiness is tempered by a delicate overlay of essential oils of ylang ylang, patchouli and rose geranium. It can be used as an all-over anti-aging moisturizer, face cream, underarm deodorant, anti-itch cream, after-sun recovery cream and massage cream.
Description
Herbal Magnesium Cream can be used as:
an all-over anti-aging moisturiser
face cream
underarm deodorant
anti-itch cream
after-sun recovery cream
massage cream
One dessertspoon of Elektra Magnesium Herbal magnesium cream to cover the whole body provides approx. 250-300mg of elemental magnesium, equivalent to the average daily recommended magnesium requirement.  Some individuals may need two or three times this much magnesium in cases of more severe magnesium deficiency. In this case extra magnesium can be supplied via Elektra Magnesium Oil Spritz, as well as foot soaking or bathing with Elektra Magnesium Flakes.
You cannot overdose with transdermal magnesium because the body only takes up from the epidermis the magnesium that it can deal with at any one time.  The skin acts in this way as a reservoir of nutrients – a bit like a dinner plate or smorgasbord.  The rich plant oils and butters help hold the magnesium ions inside the epidermal layer until used by the body.  It helps also to keep the skin well hydrated, plumped up and protected for several hours after application of the cream.
Contains:  Purified water, 15% Elektra Magnesium chloride hexahydrate, Butyrospermum parkii (shea) butter, Cetearyl alcohol, Prunus amygdalus dulcis (sweet almond) oil, Macadamia integrifolia seed oil, Prunus armeniaca (apricot) Kernel oil, Cocos nucifera (coconut) oil, Ceteareth-20, Lecithin, Cannabis sativa (hemp) seed oil, Mangifera indica (mango) seed butter, Theobroma cacao (cocoa) seed butter, Tocopherol (Vitamin E), Azadirachta indica (neem) oil, Suprapein*, Xanthan gum, Potassium sorbate, Pelargonium capitatum (rose geranium) oil, Cananga odorata (ylang ylang) flower oil, Pogostemon cablin (patchouli) oil, Alpha lipoic acid, Citric acid. *Note: Suprapein comprises extracts of: oregano leaf, thyme, cinnamon bark, rosemary leaf, lavender flower, lemon peel, peppermint leaf, golden seal root and olive leaf.