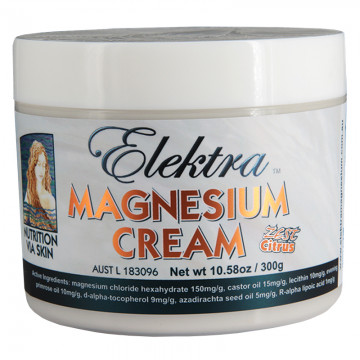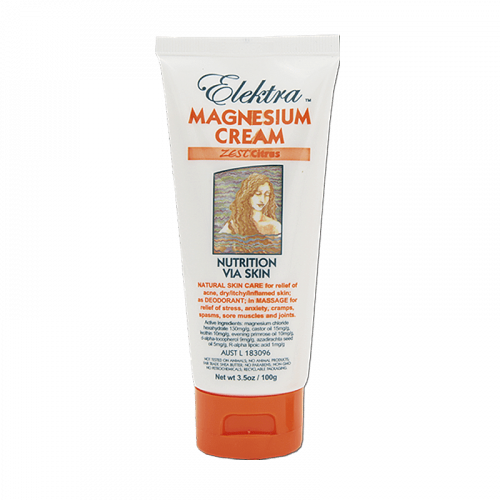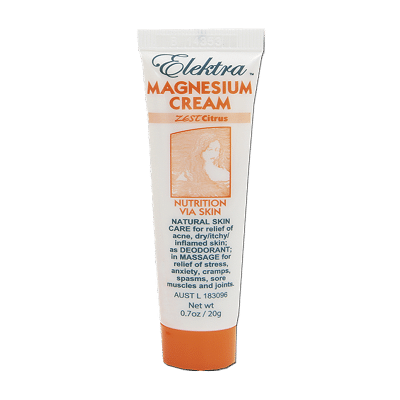 Elektra Magnesium Cream Zest Citrus
$6.60 – $77.00
'Zest- Citrus' has a refreshing stimulating soft citrus fragrance with pure essential oils of lemongrass, bergamot and vanilla. For medium skin types, this magnesium cream is light and summery, yet with a luxurious and buttery skin barrier protection and hydration. It is particularly good as an insect repellent because of the citrus oils. It can be used as an all-over anti-aging moisturiser, face cream, underarm deodorant, anti-itch cream, after-sun recovery cream and massage cream. If you have medium to oily or Mediterranean type skin this one could be ideal for you.
Description
Zest Citrus Magnesium Cream can be used as:
an all-over anti-aging moisturiser
face cream
anti-acne cream
mosquito and midge repellent
underarm deodorant
anti-itch cream
after-sun recovery cream
massage cream for relief of PAIN, CRAMPS, ARTHRITIS and INFLAMMATION
One dessertspoon of Elektra Zest Citrus Magnesium Cream 20g to cover the whole body provides approx. 250-300mg of elemental magnesium, equivalent to the average daily recommended magnesium requirement.  Some individuals may need two or three times this much magnesium in cases of more severe magnesium deficiency. In this case extra magnesium can be supplied via Elektra Magnesium Oil Spritz, as well as foot soaking or bathing with Elektra Magnesium Flakes.
You cannot overdose with transdermal magnesium because the body only takes up from the epidermis the magnesium that it can deal with at any one time.  The skin acts in this way as a reservoir of nutrients – a bit like a dinner plate or smorgasbord.  The rich plant oils and butters help hold the magnesium ions inside the epidermal layer until used by the body.  It helps also to keep the skin well hydrated, plumped up and protected for several hours after application of the cream.
ACTIVES: Magnesium Chloride Hexahydrate 150mg/g, Castor Oil 15mg/g, Lecithin 10mg/g, Evening Primrose Oil 10 mg/g, Alpha Tocopherol 9mg/g, R-alpha Lipoic Acid 1mg/g
SUPPORTING: Purified water, Butyrospermum parkii (shea) butter, Cetearyl alcohol, Prunus amygdalus dulcis (sweet almond) oil, Macadamia integrifolia seed oil, Prunus armeniaca (apricot) Kernel oil, Cocos nucifera (coconut) oil, Ceteareth-20, Theobroma cacao (cocoa) seed butter, Azadirachta indica (neem) oil, Naticide (natural preservative), Xanthan gum, Potassium sorbate, Lactic acid, Essential oils of: Cymbopogon citratus (lemongrass), Citrus bergamia (bergamot bergaptane-free), Vanilla planifolia.