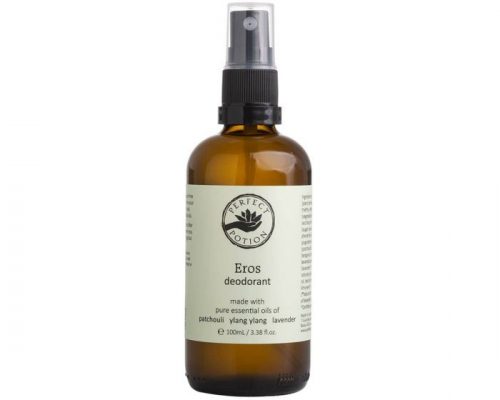 Eros Deodorant
$24.95
Perfect Potion's 100mL Eros Deodorant
The warm, sweet earthy scent of patchouli, ylang ylang and lavender delicately scent your body and allow it to breathe.
Description
This natural, aluminium-free deodorant will perfume your body with warm, sensual notes of pure essential oils, including lavender, ylang ylang, bergamot and patchouli.
Delicately scent your body and allow it to breathe and function freely.
Features
Aluminium free
A warm, sweet earthy and floral scent
The essential oils are anti-bacterial, reducing the bacteria which cause odour by working on your perspiration
Great for people with sensitive skin
How to use
Spray Eros Deodorant under your arms after showering or whenever you need to refresh throughout the day. Use with other products in the Eros range.