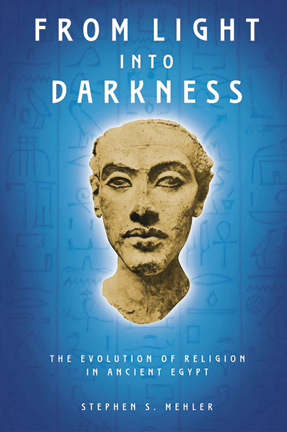 From Light Into Darkness (Digital)
$16.50
The Evolution of Religion in Ancient Egypt by Stephen S. Mehler (Ebook)
Description
Building on the esoteric information first revealed in Land of Osiris, this exciting book presents more of Abd'El Hakim's oral traditions, with radical new interpretations of how religion evolved in prehistoric and dynastic Khemit, or Egypt.
• Have popular modern religions developed out of practices in ancient Egypt? *
• Did religion in Egypt represent only a shadow of the spiritual practices of prehistoric people?
• Have the Western Mystery Schools such as the Rosicrucian Order evolved from these ancient systems?
Author Mehler explores the teachings of the King Akhenaten and the real Moses, the true identity of the Hyksos, and Akhenaten's connections to The Exodus, Judaism and the Rosicrucian Order.
Here for the first time in the West, are the spiritual teachings of the ancient Khemitians, the foundation for the coming new cycle of consciousness—The Awakening; more.