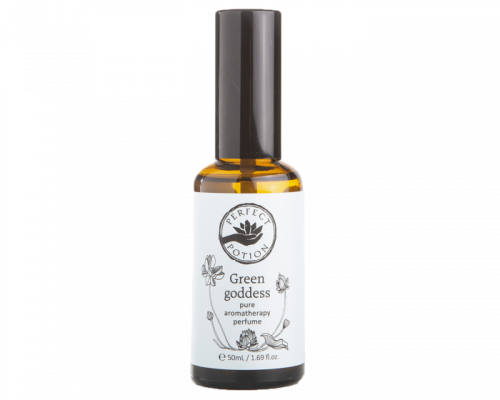 Green Goddess Pure Aromatherapy Perfume
$49.95
Perfect Potion's Green Goddess pure aromatherapy perfume 50ml
This blend helps you to appreciate the essence of nature, it nurtures and comforts, it promotes self awareness and wellbeing and
Description
To celebrate our 20th anniversary we have created a very special blend – Green Goddess!
Features
This blend perfectly captures the essence of Perfect Potion. The essential oils in the Green Goddess blend epitomises the spirit of all Green Goddesses.
This blend helps you to appreciate the essence of nature, it nurtures and comforts, it promotes self awareness and wellbeing and helps one to embrace new ideas.
A fusion of over 23 essential oil blends selected carefully by the Perfect Potion team.
How to use
Spray on wherever the warmth of your body will carry this unique blend of pure essential oils into the air that surrounds you – over your heart, on your wrists or throughout your hair.