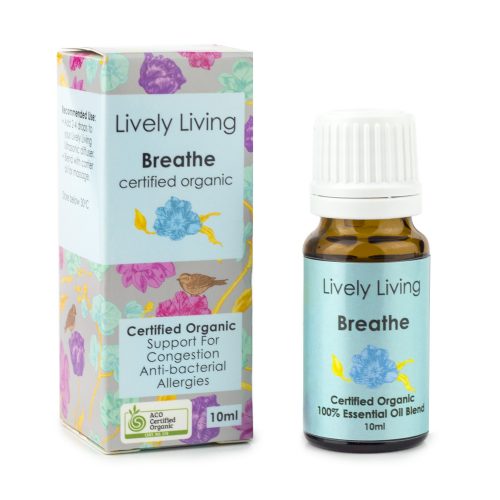 Breathe Essential Oil Blend
$20.95
Lively Living's Breathe blend 10mL – Support for congestion, anti-bacterial and allergies
Breathe is 100% a Certified Organic Essential Oil Blend.
Description
Breathe is 100% Certified Organic Essential Oil Blends, is ideal for those suffering with asthma, sinus issues or congestion, as well as anyone who would like to clear their airways and improve their general breathing.
By combining the goodness of 100% organic herbs and fruits, Breathe aids in lessening respiratory issues by helping to clear and open up your airways to promote easy breathing. When diffused, these benefits are paired with a purification of the air, helping to eliminate airborne bacteria, all the while emitting a fresh aroma to both relax you and your senses.
Containing only 100% certified organic ingredients, Breathe combines:
Organic Eucalyptus
(Eucalyptus Globulus Leaf)
Known to help alleviate cold and flu symptoms
Organic Sweet Orange
(Citrus Aurantium Dulcis Peel)
To promote positive mood 
Organic Lemongrass
(Cymbopogon Flexuosus)
For its headache and pain relieving properties
Organic Rosemary
(Rosmarinus Officinalis Leaf)
To relieve stress and boost general immunity
Myrtle Dalmatian
(Myrtus Communis Leaf)
Organic Cinnamon
(Cinnamomum Zeylanicum Leaf)
For its ability to assist in alleviating nausea and an upset stomach