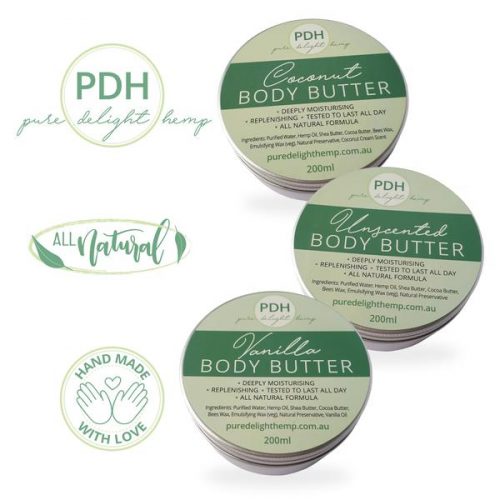 Hemp Body Butter
$29.95
Pure Delight Hemp's Body Butter – A deeply moisturising, replenishing, all natural formula that lasts all day that relieves and protects dry skin.
Description
Pure Delight Hemp's Body Butter is hand made in small batches so that you are always buying fresh product.  Its made with only natural ingredients and tested in the harshest conditions.  It's especially great in cold, dry weather.
Made with natural butters, oils and purified water.  Simple and effective.
A lot of our customers with VERY sensitive skin use and trust our Unscented Body Butter with great results.
This luscious all-over hemp seed oil body butter has the highest content of hemp seed oil of any body butter on the market. (3 fragrance options).  Our Hemp Body Butter is made from a blend of hemp seed oil, shea butter, cocoa butter, emulsifying wax and bee's wax with coconut/vanilla scent. (Also comes in unscented).  Highly moisturising cream for dry skin. Your skin will glow and appreciate goodness of hemp seed oil and other natural ingredients.
Hemp Body Butter helps repair skin and offers great protection for your skin in the winter seasons or as an after sun moisturiser. Also great for those dry skin on hands and feet.  This product comes in a 200mL tub.