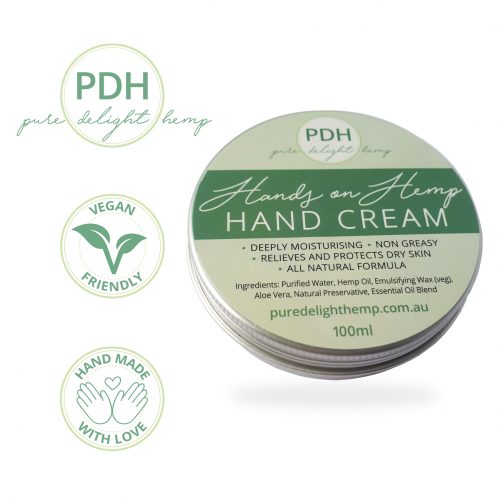 Hemp Hand Cream
$18.00
Pure Delight Hemp's 'Hand on Hemp' Hand Cream – A deeply moisturising, non greasy, all natural formula that relieves and protects dry skin.
Description
Hands on Hemp Hand Cream was developed by us to be a simple, natural formula that is very effective and uses Hemp as the carrier oil, meaning it has far more hemp than its competition.
A small amount of this gently mandarin-scented cream goes a long way leaving your hands feeling soft and moisturised.  It's non-greasy and won't leave you feeling oily.  We found this hand cream protected against cracked dry skin from winter and softens hard worked skin.
Hemp Oil has a perfect essential fat blend for our skin and is quickly absorbed and retained.  This is because of its high levels of omega 3 and omega 6 fatty acids giving it a similar composition to our skin lipids.  This is what makes our hand cream and all of our creams so effective and why people get such great results.  Pure Delight Hemp have worked hard to bring you a formula with no chemical nasties, that's pure, clean simple and effective.  All in a 100ml tin.
Ingredients: Purified Water, Hemp Oil, Emuslifying wax (veg), Aloe Vera, Natural Preservative and a small amount of essential oil.