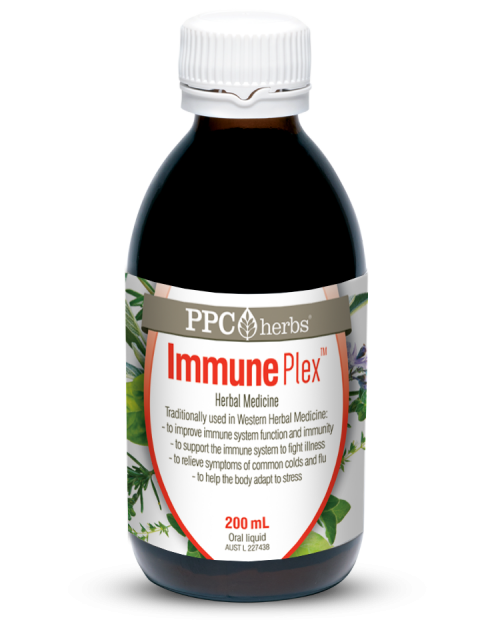 Herbal Immune Plex
$49.95
PPC Herbs 'Immune Plex' 200mL herbal medicine oral liquid. Traditionally used in western herbal and traditional Chinese medicine:
to assist the body's natural ability to resist infection
to improve immune function, stamina and general health
as an aid during times of stress
Description
Indications
Each 5ml contains extract liquid equivalent to dry:
Astragalus root, Astragalus membranaceus 625mg,
Olive leaf, Olea europaea 500mg,
Echinacea whole plant, Echinacea purpurea 500mg,
Reiishi mushroom whole plant, Ganoderma lucidum 1000mg
Dosage
Adult: 5-10ml two times a day
Child (3-12 years): 1-2.5ml two times a day
Shake bottle well before use. Can be diluted with water, fruit juice or other fluids if necessary
WARNING:
ALWAYS READ THE LABEL CAREFULLY BEFORE USING A HERBAL MEDICINE.
Use only as directed and consult your Healthcare Practitioner if symptoms persist. Not to be used in children under 2 years of age. Contains ethanol.  Store below 30oC