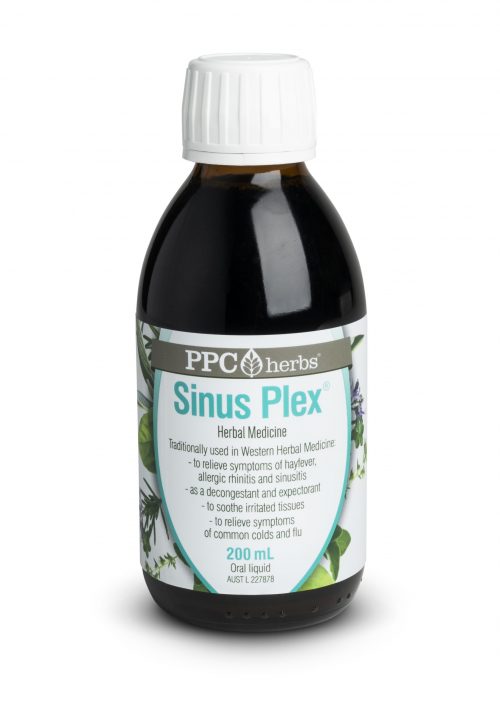 Herbal Sinus Plex
$49.95
PPC Herbs 'Sinus Plex' 200mL herbal medicine oral liquid. Traditionally used in western herbal medicine:
to relieve symptoms of hayfever, allergic rhinitis and sinusitis
as a decongestant and expectorant
to soothe irritated tissues
to relieve symptoms of common colds and flu
Description
The PPC Herbs Sinus Plex is a liquid supplement commonly used in Western Herbal and Traditional Chinese Medicine for the relief of:
Cold and Flu
Sore Throat
Mild cases of Bronchitis
Coughs
Catarrh as a decongestant
To alleviate/ reduce fevers
As a diaphoretic [agent to induce sweating]
Symptoms of hayfever and allergic rhinitis
Mild forms of eczema, urticaria, dermatitis and other allergic skin conditions
and as an antimicrobial, antimycotic [fungal], antibiotic, antiseptic, antibacterial agent.PPC Herbs have been working for over 20 years to perfect their supplements, using organic and wildcrafted ingredients wherever possible.
An Australian owned company, all raw ingredients sourced locally when available. Certified Organic.
Use only as directed. Consult your healthcare professional if symptoms persist. Treatment should be for a maximum of six weeks continuous therapy. Not to be used in children under two years of age without medical advice. Contains ethanol.
Australian Register of Therapeutic Goods ID: 227878

Ingredients
Each 5ml contains extract liquid equivalent to:
Eyebright herb (dry), Euphrasia officinalis 1g
Baical Skullcap root (dry), Scutellaria baicalensis 500mg
Liquorice root (dry), Glycyrrhiza glabra 1.25g
Elder flower (dry), Sambucus nigra 1g
Garlic bulb (fresh), Allium sativum 100mg
How to use