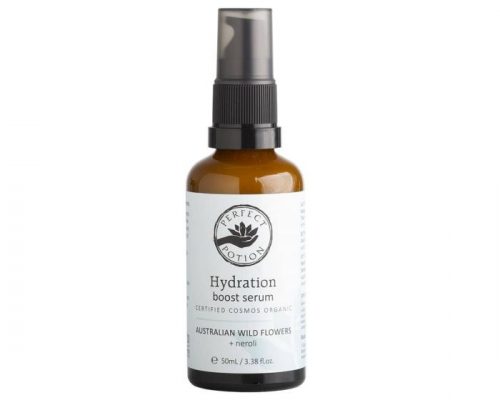 Hydration Boost Serum
$59.95
Perfect Potion's Hydration Boost Serum 50ml with Australian wildflower and neroli
Certified COSMOS Organic
For normal to dry, dehydrated skin.
Description
Key Ingredients
AUSTRALIAN WILD FLOWERS + neroli
Australian Native Extracts
Kangaroo paw: Activates fibroblasts. Stimulates collagen and elastin synthesis. Improves skin firmness. Hydrates and cools the skin.
Banksia: Anti-inflammatory. Anti-oxidant. Supports collagen health.
Flame tree: Anti-inflammatory. Potent anti-oxidant, Improves skin hydration.
Botanical Actives
Aloe vera juice: Hydrating and soothing.
Key Essential Oils
Neroli, rose, chamomile, sandalwood: Soothe, calm and support the skin. Soothe and uplift the senses.