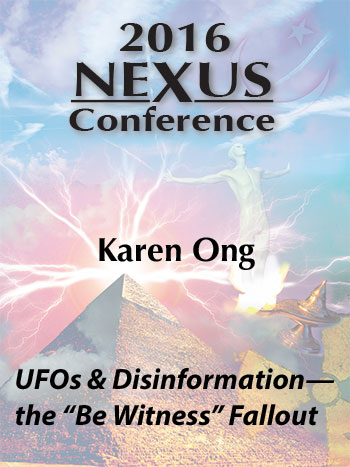 Karen Ong – NEXUS Conference 2016
$29.00
Karen Ong presenting at the NEXUS Conference 2016 on UFOs and Disinformation—the "Be Witness" Fallout
Description
Karen Ong (Australia)
UFO disinformation, the "Be Witness" fallout, and the Mexico–Australia connections. In her presentation, Karen reviews all of the evidence presented during the May 2015 Mexico City "Be Witness" presentation of an alleged extraterrestrial body and explores the chain reaction of events which transpired in the days and weeks following. The Mexico City presentation triggered what was arguably the greatest display of negative reactions by UFO researchers ever witnessed in the history of ufology. But many questions still remain unanswered. Why did this reaction occur? What knowledge was gained or lost from this fallout, and what are the potential ramifications of this for the field of ufology and for humanity?
To download/stream this presentation, please follow this link.