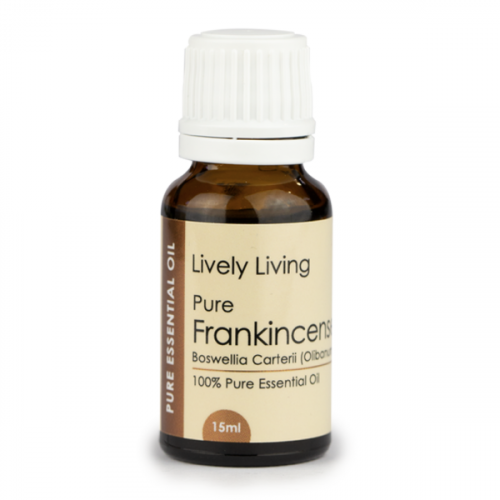 Lively Living Pure Frankincense Oil – Boswellia Carterii (olibamium)
$45.00
Lively Living's Pure Frankincense essential oil 15mL (boswellia carterii – olibamium)
100% pure essential oil
Description
Aromatic Description
Woody, earthy scent with a smooth and relaxing aroma
Botanic Name
Frankincense boswellia carterii (olibamium)
Country of origin
Africa   (mountainous regions of Somalia)
Derived from
Resin of Boswellia Carterii  plant
Method of extraction
Steam Distillation
Properties of Frankincense
• This powerful essential oil promotes feelings of peace and overall wellness
• Calming and comforting to help overcome stress and anxiety
• Ideal for meditation as it helps clear and still the mind
• High in alpha-pinene, and other monoterpenes, making it a great immune support.
• Ability to repair skin cells. Assist to alleviating skin imperfections such as sun spots, scars and improve maturing skin.
. Assists to improve breathing and illness and support the respiratory system.
HANDY TIPS
Use 2-5 drops in a Lively Living diffuser of your choice
Great to add a few drops to skincare products for extra nourishment.
This is the same Frankincense which is incorporated into in our popular "Sniffles and Cough (and Sleep) Blend"
Other Info
Frankincense is one of the essential oils that have very limited or no availability with an organic certification. However our Frankincense Essential Oil is 100% pure essential oil and of the highest quality.