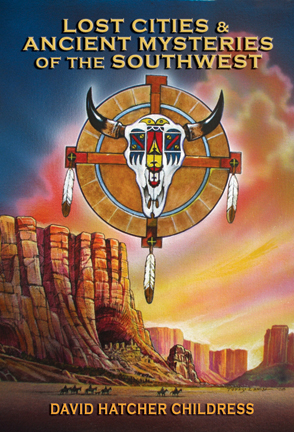 Lost Cities and Ancient Mysteries of the Southwest (Digital)
$16.50
by David Hatcher Childress (Ebook)
Description
Popular Lost Cities author David Hatcher Childress takes to the road again in search of lost cities and ancient mysteries. This time he is off to the American Southwest, traversing the region's deserts, mountains and forests investigating archaeological mysteries and the unexplained.
Join David as he starts in northern Mexico and searches for the lost mines of the Aztecs. He continues north to west Texas, delving into the mysteries of Big Bend, including mysterious Phoenician tablets discovered there and the strange lights of Marfa.
He continues northward into New Mexico where he stumbles upon a hollow mountain with a billion dollars of gold bars hidden deep inside!
In Arizona he investigates tales of Egyptian catacombs in the Grand Canyon, cruises along the Devil's Highway, and tackles the century-old mystery of the Superstition Mountains and the Lost Dutchman mine.
In Nevada and California Childress checks out the rumours of mummified giants and weird tunnels in Death Valley, plus he searches the Mohave Desert for the mysterious remains of ancient dwellers alongside lakes that supposedly dried up tens of thousands of years ago.
It's a full-tilt blast down the back roads of the Southwest in search of the weird and wondrous mysteries of the past!