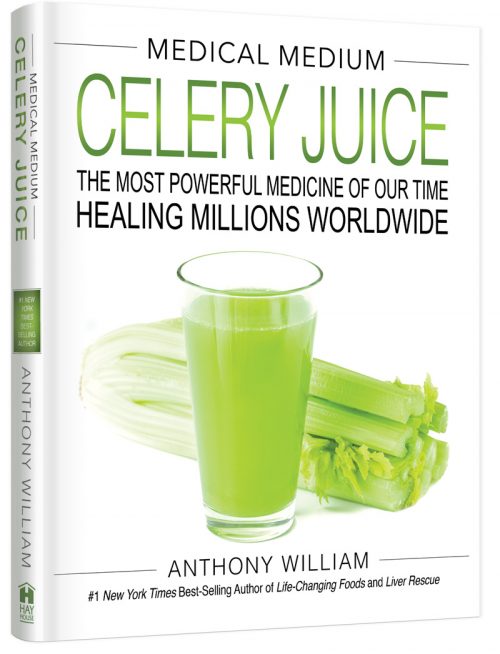 Medical Medium: Celery Juice
$28.00
Celery Juice: The Most Powerful Medicine of Our Time — Healing Millions Worldwide
by Anthony William
(hardcover 208 pp)
Description
Celery juice, when consumed in the right way, is a powerful and miraculous healing remedy and people are noticing the benefits it provides, such as clearer skin, improved digestion, less bloating, sustained energy, better mental clarity, weight loss, and stable moods, just to name a few.
As the global celery juice movement has gained attention, people have asked, "Where did this come from?" The answer is the beloved healing authority Anthony William, his New York Timesbest-selling books, and his multimillion-member Medical Medium community. Anthony, the originator of the global celery juice movement, has said for years that celery juice is an unparalleled healing weapon—surpassing any superfood— that is exactly what's needed for the level of sickness occurring in our world today.
If people knew all the potent healing properties of celery juice, it would be widely hailed as a miraculous superfood. Celery juice is a savior for chronic illness and Anthony William has seen it transform thousands of lives since he introduced it years ago.
In this book, Anthony introduces you to celery juice's incredible ability to create sweeping improvements on every level of our health:
*  Healing the gut and relieving digestive disorders
*  Balancing blood sugar, blood pressure, weight, and adrenal function
*  Neutralising and flushing toxins from the liver and brain
*  Restoring health in people who suffer from a vast range of chronic and mystery illnesses and symptoms, among them fatigue, brain fog, acne, eczema, addiction, ADHD, thyroid disorders, diabetes, SIBO, eating disorders, autoimmune disorders, Lyme disease, and eye problems.