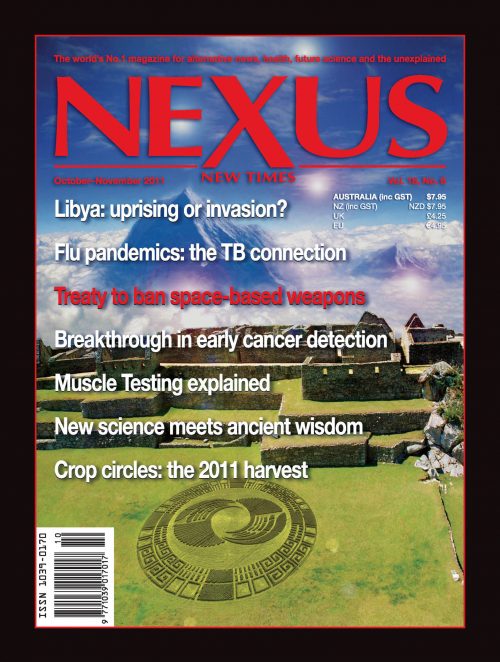 NEXUS vol. 18, no. 6
$8.80
Description
HARDCOPY ISSUE
LETTERS TO THE EDITOR
Readers comment on blackmail in science, hiatal hernia denial, nanoparticles linked to heart disruption and stroke, the suppression of breast-screening technologies other than mammography, negative ionisers and more.
GLOBAL NEWS
We report on 3D printing technology, a European Court of Justice ruling on GM contamination, the US FDA's plan to ban dietary supplements, WikiLeaks revelations, human organs grown in the lab, Islamophobia and more.
ATLANTIC COUNCIL:  LIBYA AS A "GLOBAL CON"?
By Tony Cartalucci.  The uprising in Libya is not so much a people's revolution as a terrorist-led action that's been in the making for three decades, supported by key western intelligence agencies and now NATO in collusion with corporate, financial and media interests.
INFLUENZA AND THE TB CONNECTION—Part 1/2
By Dr Lawrence Broxmeyer.  An influenza virus was not the real culprit in the 1918-19 influenza pandemic.  More likely, hidden tuberculosis was to blame for devastating secondary infections and the huge death toll.
ENERGY KINESIOLOGY:  BENEFITS & LIMITS
By Dr Steven Rochlitz.  A technique developed from muscle testing may be the best modality in all of medicine for determining the optimum way to restore health, because it utilises the body's own memory and wisdom.
A COSMOLOGICAL JOURNEY
By Dr Manjir Samanta-Laughton.  This new model of the universe proposes that consciousness generates life, that black holes exist even at the subatomic level, and that light is infinite but curled up in higher dimensions.
A TREATY FOR PEACE IN SPACE
By Dr Carol Rosin and co-authors.  A new Outer Space Security and Development Treaty is proposed that would ban the use of weapons in space and recognise the reality of cosmic cultures and the opportunities for cooperation.
SCIENCE NEWS
This edition, we cover Professor Veronica James's fibre diffraction diagnosis, a method for detecting various types of cancer, insulin dependence and Alzheimer's disease using X-rays of hair, nail clippings or skin.
INVESTIGATING THE "GHOSTS OF THE OCEAN"
By Paul Stonehill.  In the 1960s to 1980s, rapidly moving underwater objects and croaking sounds were reported by Soviet submariners.  What was responsible:  US Navy sonic buoys, crypto-creatures or unidentified objects?
CROP CIRCLES 2011:  TOWARDS A NEW ERA?
By Andy Thomas.  This season's crop formations took a slight step back from the geometric and aesthetic heights of recent years, but still managed to surprise and put crop-watchers into suspense as to what 2012 may bring.
THE TWILIGHT ZONE
We feature reports on a famous UFO incident at Shag Harbour, Nova Scotia, in 1967, and on a US command sergeant major who witnessed a close encounter between UFOs and the military in 1977 and collected a metal sample bearing hieroglyphs from the crash site.
REVIEWS—Books
"Hormone Heresy" by Dr Sherrill Sellman, ND
"Dirty Medicine:  The Handbook" by Martin J. Walker
"Pulp Med" by Petros Arguriou and Beldeu Singh
"The Psilocybin Solution" by Simon G. Powell
"Me-Flow" by Blake Taylor
"Less Incomplete" by Sandie Gustus
"UFOs:  Generals, Pilots, Government Officials…" by Leslie Kean
"The Extinction Protocol:  2012 and Beyond" by Alvin Conway
"Manifesto for the Noosphere" by José Argüelles
"The Legacy of Zecharia Sitchin" by M. J. Evans, PhD
"The Sheer Ecstasy of Being a Lunatic Farmer" by Joel Salatin
"Greece's 'Odious' Debt" by Jason Manolopoulos
"The Most Dangerous Man in the World" by Andrew Fowler
"Extreme Prejudice" by Susan Lindauer
REVIEWS—DVDs
"2011 NEXUS Conference" with various speakers
REVIEWS—Music
"Crystal Keys:  Songs to Awaken & Heal" by Lia Scallon
"Roots & Wings" by Yeshe
"Cicada" by Hazmat Modine
"Earth Resonances" by Thomas Chochola