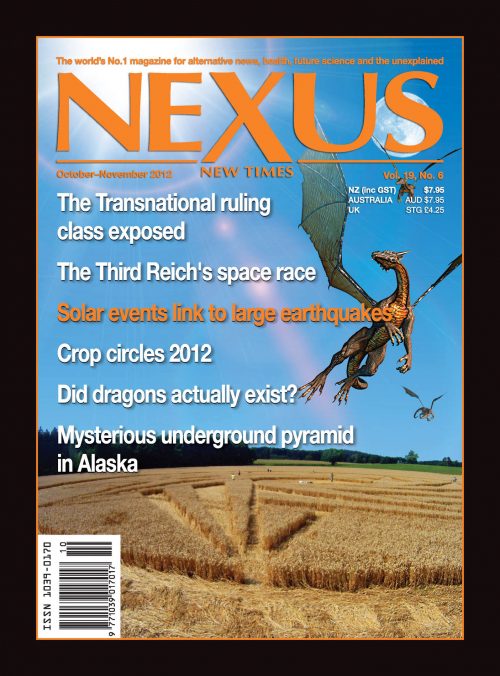 NEXUS vol. 19, no. 6
$8.80
Description
HARDCOPY ISSUE
LETTERS TO THE EDITOR
Readers comment on 2012, exotic energy inventions, underground caverns and document destruction, borax's effectiveness against osteoarthritis, regulation of fluoride in water supplies, and taking responsibility for our health.
GLOBAL NEWS
We feature a range of news items covering radiation therapy and cancer deaths, TrapWire and the global surveillance network, the Trans-Pacific Partnership trade deal, the fluoridation link to low IQ in children, UK police privatisation, a Clostridia link to autism, and more.
THE TRANSNATIONAL RULING CLASS EXPOSED
By Professor Peter Phillips and Kimberly Soeiro.  The global power elites of superconnected corporations and individuals amass vast wealth at the expense of the 99 per cent, and utilise the military–industrial–media empire to protect their capital and vested interests.
THE IMMUNE SYSTEM AND HIDDEN PORPHYRIA
By Dr Steven Rochlitz.  Our crucial immune system is adversely affected by porphyria.  The haem protein, which is not properly made in porphyrics, was recently proven to regulate the immune system.  Porphyria also causes thyroid dysfunction and seeming mental illness.
DOUGLAS DIETRICH ON THE HIDDEN SIDE OF HISTORY—Part 3
An interview with Douglas Dietrich by Thomas Kirschner.  This former US Department of Defense military librarian and Marine exposes secrets of World War II and beyond. Here he explains that the exiled Third Reich was forced to abandon its space program after 1958 when the Americans detonated nuclear warheads above the Earth.
STRONG SOLAR ACTIVITY CAN TRIGGER LARGE EARTHQUAKES
By Stephen A. Reynolds.  Analysis of data from GOES and HAARP magnetometers suggests that a positive statistical correlation exists between strong solar activity and the triggering of high-magnitude earthquakes.
DRAGONS IN MYTH AND RECORDED HISTORY
By Patrick C. Chouinard.  Feared or favoured, dragons are part of cultural traditions worldwide and have been documented in written records.  Are they a figment of our collective imagination, or did they actually exist?
SCIENCE NEWS
We include an archival item on the poor conductivity of New Zealand's soil, plus news of a nanoscale energy source and a three-dimensional solar cell that produces at least 250 per cent of the power of a basic silicon solar cell.
CROP CIRCLES 2012:  BEAUTY AND THE BEAST
By Andy Thomas.  This year's crop circle season offered some spectacular formations and a steady mix of themes, without much of a nod to the new era anticipated with the forthcoming end date of the Mayan calendar.
THE TWILIGHT ZONE
We highlight mysteries researcher Linda Moulton Howe's investigation into a huge energy-generating pyramid structure allegedly discovered underground in Alaska, near Mt McKinley and Nome, with handed-down reports on the US military's covert interest in the anomaly.
REVIEWS—Books
"21st Century Radionics…Vibrational Medicine" by Nick Franks
"Allergies and Candida" by Steven Rochlitz, PhD
"Postcards from the Other Side" by Michelle and Ezio De Angelis
"Consulting Spirit" by Dr Ian D. Rubenstein
"Dark Light Consciousness" by Edward Bruce Bynum, PhD
"Transcending the Titanic" by Michael Tymn
"LightQuest" by Andrew Collins
"UFO Case Files of Scotland:  The Sightings" by Malcolm Robinson
"Forgotten Worlds" by Patrick Chouinard
"Alien Encounters:  A Lifetime Deal" by Judy L. Clarke
"To the Ends of the Earth" by Maxwell C. Hill
"The Interconnectedness of All Things" by John Gibson-Forty
"Terrorism and the Illuminati" by David Livingstone
"The Science Delusion" by Rupert Sheldrake
REVIEWS—DVDs
"New Evidence of Early Man:  Suppressed" produced by BC Video
REVIEWS—Music
"Los Angeles Blues" by Ciro Hurtado
"Spirit Bird" by Xavier Rudd
"Stellar Connection" by Thierry David
"Ancestors" by Linsey Pollak and Tunji Beier