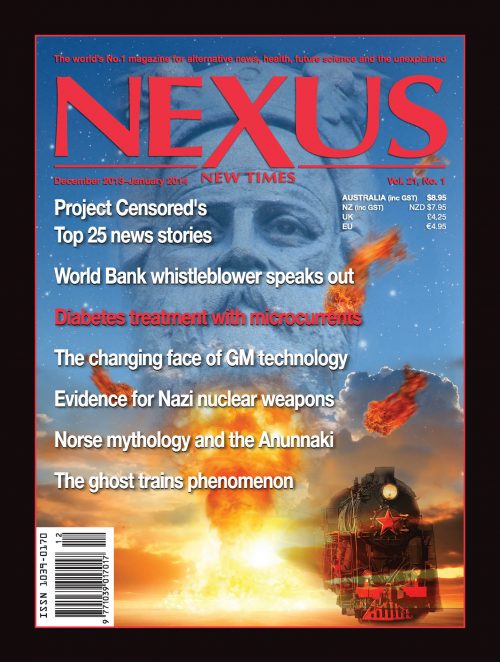 NEXUS vol. 21, no. 1 (December 2013-January 2014)
$8.80
December 2013-January 2014
Description
HARDCOPY ISSUE
LETTERS TO THE EDITOR
Readers comment on using bicarbonate of soda to relieve gout, erroneous chiropractic claims, filters that stop dirty electricity, the nonŠ—–HIV AIDS cover-up, fighting EMF interference, and CSG exploration in Australia's far north.
GLOBAL NEWS
We report on recoding a bacterium's genome, the eruption that caused a mini-ice-age, Queensland's plan to grab farming land for coal-miners, the Ashkenazi Jews' ancestry, dolphins declared "non-human persons" in India, brain implants to connect us to the Internet, the toxic-junk island from Japan's tsunami, and much more.
KAREN HUDES: WORLD BANK WHISTLEBLOWER
Interview by Sophie Shevardnadze. Citizens are waking up to the corruption in the global financial system and the corporate elite behind it, says Karen Hudes, a World Bank whistleblower who sees a way beyond a currency war to a peaceful transition of power to the people.
PROJECT CENSOREDŠ—'S TOP 25 NEWS STORIES
By Professor Mickey Huff and the Project Censored team. Following an extensive review process, Project Censored presents its list of the top 25 validated independent news stories of 2012Š—–2013 which received no attention or only partial coverage in the corporate media.
THE CHANGING FACE OF GM TECHNOLOGY
By Dr Eva Sirinathsinghji. The products of newly applied genetic engineering techniques such as oligonucleotide-directed mutagenesis are being sold to the public as being natural and non-transgenic, but the techniques bypass existing GM legislation and regulations.
EVIDENCE FOR NAZI NUCLEAR WEAPONS Part 1
By Simon Gunson. Contrary to the official view of World War II history, the Third Reich won the race to develop and use the atomic bomb. Eyewitness testimony provides strong evidence that the weapon was tested and deployed several times during the war, from as early as 1942.
SCIENCE NEWS
We feature an extract from a research paper reporting on the successful use of microcurrent delivered by the Electro Pressure Regeneration Therapy (EPRT) device in the treatment and management of diabetes mellitus, hypertension and chronic wounds.
THE NORSE GODS AND THE ANUNNAKI PUZZLE
By Tom Ashmore. The Anunnaki, credited with jumpstarting civilisation in Sumeria, Egypt, Asia, the Americas and elsewhere, may once have exiled some of their gods to Scandinavia. The deeds of these exiled gods may well have been preserved for posterity in Norse mythology.
THE GHOST TRAINS OF EURASIA
By Paul Stonehill. The ghost train phenomenon has been observed numerous times in Eurasia, and reports describe lucky escapes as well as unexpected deaths. Explanations for these haunted railway tracks include the movement of chronal fields and the action of invisible vortexes.
THE TWILIGHT ZONE
This issue we reprint an interview with Sixto Paz Wells, an ET contactee from Peru who tells of telepathic and direct interactions with advanced beings originally from Orion and now based on Ganymede, one of Jupiter's moons. He recounts his journeys through the Xendra dimensional portal and prophecies about Earth's future.
REVIEWS—Books
"Beating Bipolar: A Therapist's JourneyŠ—_" by Blake LeVine
"Inside an Autistic World" edited by Wolfgang Weirauch
"Wisdom For Your Life" by Katrina Cavanough
"The Cathar View" edited by Dave Patrick
"Geometry in Nature" by John Blackwood
"Heavenly Bodies: Cult TreasuresŠ—_" by Paul Koudounaris
"Buried by the Church" by Neal Sutton
"Rosslyn Chapel Decoded" by Alan Butler and John Ritchie
"Inside the Real Area 51" by Thomas Carey and Donald Schmitt
"Atlantis: Fact Š—– Two ColoniesŠ—_" by Rosemary Klem
"Missing 411: North America and Beyond" by David Paulides
"Banker Occupation" by Stephen Lendman
"Censored 2014" edited by Mickey Huff and Andy Lee Roth
"Bad Pharma: How Drug Companies MisleadŠ—_" by Ben Goldacre
REVIEWS DVDs
"Unmanned: America's Drone Wars" by Robert Greenwald
"Take Back Your Power" by Josh del Sol
REVIEWS Music
"Incarnation: Jim Wilson in Memoriam"
"Yoga Planet" by David & Steve Gordon
"Hotel Univers" by Jupiter & Okwess International
"Mzansi" by Wouter Kellerman