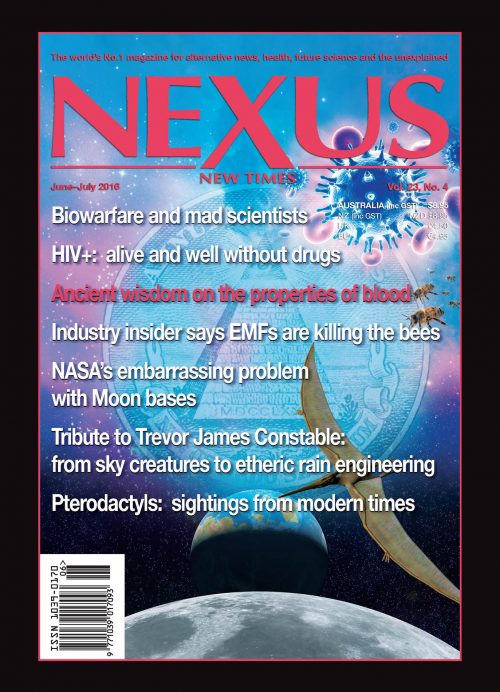 NEXUS vol. 23, no. 4 (June-July 2016)
$8.80
Description
LETTERS TO THE EDITOR
A reader comments on the benefits of inclined bed therapy and vitamin D3, an inventor questions the Australian government's innovations grants program, and an activist calls on the US Bioethics Commission to protect people from non-consensual research by military–intelligence agencies and institutions.
GLOBAL NEWS
We report on new evidence for a ninth planet, fears that the MMR–autism link may be true, a teenager who used stars to locate a lost Mayan city, missing child refugees in Europe, Canada's genocide, brain genes damaged by fructose, data storage on DNA, Portugal's success with decriminalising drugs, the reason for the 2011 attack on Libya, EMFs and bee colony collapse disorder, and more.
MKULTRA, BIOWEAPONS AND EMPIRE—Part 2
By Jack Heart and Orage. Biological and chemical weapon agents developed in university and military laboratories were tested on unwitting civilian populations and armed forces personnel in the USA, the UK and elsewhere with no concern for their toxic effects.
ANCIENT KNOWLEDGE OF LEUKOCYTES
By Dr Paul Lloyd. Physicians in antiquity and prior to the mid-17th century knew the importance of the blood humour for good health and immunity. They were aware of leukocytes, or white blood cells, and even prescribed foods that enhanced the production of these cells.
HIV POSITIVE, NO TREATMENT…AND HEALTHY!
By Pryska Ducoeurjoly. Many people with HIV and no symptoms have studied the flaws in the HIV=AIDS theory and stopped taking their medications—without any harmful effects. Health authorities recommend drug therapy from the first sign of HIV diagnosis, despite the unreliability of testing methods.
FREEMASONRY, ESOTERIC SCIENCE AND UFOs
An interview by Robert Guffey. Retired military scientist and engineer Richard Schowengerdt, who was awarded a patent for an electro-optical camouflage system, shares his thoughts on the link between science and mysticism as well as on the cloaking abilities of UFOs.
SCIENCE NEWS
Thomas Joseph Brown pays tribute to the late Trevor James Constable, maritime radio officer, aviation historian and trailblazing etheric weather engineer. Constable photographed sky "critters" on infrared film in the 1950s and developed rain-making devices based on sacred geometry and utilising atmospheric orgone energy.
LEAVING APOLLO'S LEGACY BEHIND
By Phil Kouts. A Mars fly-by is actively promoted as a viable, practical goal, but NASA's two systems for travelling beyond low Earth orbit are not sufficient even to "return" to the Moon. Agency insiders admit that an international collaborative effort is needed to solve human deep-space exploration problems.
THE TWILIGHT ZONE
We feature a collection of modern-era reports of pterodactyl sightings in Africa and recent accounts of legendary Thunderbird activity in Pennsylvania, USA.
REVIEWS—Books
"You Are Your Own Best Medicine" by Frédéric Saldmann, MD
"Becoming Nature" by Tamarack Song
"Wild by Design…Life-Enhancing Landscapes" by Margie Ruddick
"The Grail Cypher…Arthurian History Revealed" by Ralph Ellis
"Stone Medicine: A Chinese Medical Guide…" by Leslie J. Franks
"The UFO Dossier: 100 Years of…Cover-Ups" by Kevin D. Randle
"Sapiens Rising: The View from 2100" by Neil Freer
"Our Dolphin Ancestors…Lost Knowledge" by Frank Joseph
"Between A Rock & A Hard Place" by Steven and Evan Strong
"Priorities for a Planet in Transition" by Gerard Aartsen
"Hidden History, Rain Engineering…" by Trevor James Constable
"Portal to the Dreamtime" by John Koch
"Insiders Reveal Secret Space Programs…" by M. E. Salla, PhD
"A New World – Book 1" by Jonathan R. Banks
REVIEWS—DVDs
"Evanescent" by Mark Abriel for LightWave Films
"Vaxxed: From Cover-Up to Catastrophe" by Andrew Wakefield
REVIEWS—Music
"Planted" by Moxie
"Road Trip" by Zen Bicycle Band
"Flames of Love" by Paul Cheneour & Dilly Meah
"The Untied Knot" by Shooglenifty