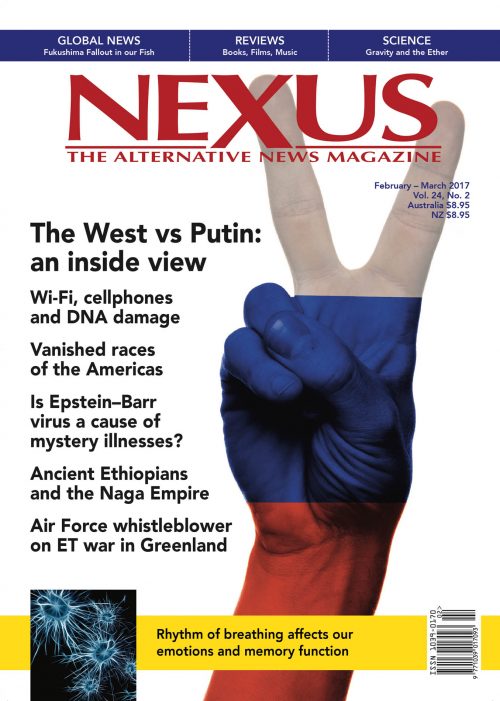 NEXUS vol. 24, no. 2 (February-March 2017)
$8.80
Description
HARD COPY ISSUE
LETTERS TO THE EDITOR
Readers comment on digital consciousness; Anunnaki film; vortex geometry; mini ice-age; pitch for 432Hz tuning; Poland news censorship and success with Blushield EMF devices.
GLOBAL NEWS
We report on conflicts of interest in GM studies, a new surveillance law in the UK, India's thumbprint payment system, Bayer's takeover of Monsanto, our breathing rhythm's impact on memory, the US crackdown on fake news, weapons in space, Fukushima fallout, Wall Street banks' $2 trillion in EU exposures, and more.
THE EMF PLAGUE: PART 1 OF 2
By Donna Fisher. Scientific studies demonstrate that microwave emissions from mobile phones, Wi-Fi, baby monitors and other wireless technologies cause DNA damage and numerous adverse biological effects.
WHO IS VLADIMIR PUTIN?
By Sharon Tennison. The US government and the Western media continue to demonise Russia's President, but the time is overdue to counter the accusations and consider a different view of Vladimir Putin.
EPSTEIN–BARR VIRUS, CHRONIC FATIGUE SYNDROME AND FIBROMYALGIA
By Anthony William. A range of health problems from chronic fatigue syndrome and fibromyalgia to thyroid disease and tinnitus remain unresolvable until the role of Epstein–Barr virus in its many forms is understood.
DID ETHIOPIANS ONCE RULE INDIA?
By Dr Clyde Winters. The ancient Ethiopians were renowned seafarers who traded with far-distant lands, setting up colonies in India and Sri Lanka and creating the Naga dynasty, as recorded in epic literature.
SCIENCE NEWS
By Victor W. Hatch. In this revised theory, the force of gravity corresponds to a change in the E-space/ether density and the residual positive electric field whether of atoms, molecules, objects, planets or stars.
FORGOTTEN INHABITANTS OF THE AMERICAS
By Rafael Videla Eissmann. Unusual artefacts on show at the Chilean Museum of Pre-Columbian Art suggest that many diverse racial groups have populated the Americas, contrary to the mainstream historical view.
ET RETRIEVAL TEAM AND 'ALIEN WAR' IN GREENLAND
By Linda Moulton Howe. A whistleblower speaks out about his father's secret work in recovering ET bodies for the US Air Force, and his recollections of battles in Greenland and the Aleutians between warring aliens.
STRANGE TIMES
By Shawn Hamilton. According to Hopi elder Oswald "White Bear" Fredericks, the Hopi ancestors escaped the destruction of their Pacific homeland and, led by their Kachina guides, established a new base in South America before finally settling in North America.
REVIEWS: BOOKS
A TRAVELER'S GUIDE TO THE AFTERLIFE by Mark Mirabello, PhD
MEDICAL MEDIUM by Anthony William THE SINGULARITY edited by Uziel Awret THE HAUNTING OF ASYLUM 49 by Richard Estep and Cami Anderson
THE PSYCHEDELIC GOSPELS by Jerry B. Brown, PhD, and Julie M. Brown, MA
PLANT SPIRIT GARDENER by Alanna Moore
THE ILLUMINATI by Robert Howells
THE WIKILEAKS FILES by various contributors
HIDDEN AGENDA by Mike Bara
TAVISTOCK INSTITUTE by Daniel Estulin
REVIEWS—FILM
TRAVIS: THE TRUE STORY OF TRAVIS WALTON by Jennifer W. Stein
ERICH VON DAENIKEN LEGACY NIGHT directed by Vitaly Safarov
REVIEWS—MUSIC
AFTER THE RAIN by Hat Fitz & Cara
THE SEVEN SUNS by John McSherry
WOMEN OF AUSTRANESIA by Women of AustraNesia
A BIT NA TA by George Telek, David Bridie & Musicians of the Gunantun