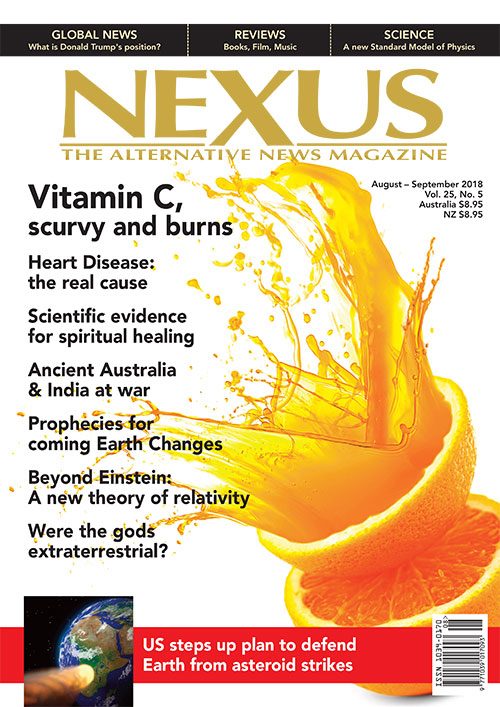 NEXUS vol. 25, no. 5 (August-September 2018)
$8.80
Description
HARD COPY ISSUE
LETTERS TO THE EDITOR
Readers comment on smart meter propaganda, prophecy and the Secret History of Australia Conference, Rh negative blood issues, Basques not outliers and Big Pharma and the Beast.
GLOBAL NEWS
We report on US opposition to breastfeeding, a mystery supernova explosion, America's space force, China's global electricity takeover, skin absorption of smoke carcinogens, AI from DNA, ancient surgeons of Peru, Donald Trump's position, and more.
THE REAL CAUSES OF HEART DISEASE
By Justin Smith. Physical and psychological factors affecting the heart's energy systems are not taken into consideration in conventional theory of heart disease. Complex interplay of many elements has not been studied, and the use of statins is problematic.
MODERN-DAY SCURVY, VITAMIN C AND BURNS
By Viera Scheibner, PhD. Low-level scurvy continues to be a risk factor for infection to the present day. High-dose vitamin C in the form of sodium ascorbate has infection-preventing properties and great potential in the treatment of burns.
SPIRITUAL HEALING IMPROVES HEALTH
By Sandy Edwards. Led by the prestigious University of Birmingham in the UK, a new study proving there are positive health benefits from spiritual healing is now being suppressed by medical journals and ignored by the mainstream media due to spiritual healing being classified as a complementary therapy.
THE EXTRATERRESTRIAL GODS: TRACES OF FORBIDDEN HISTORY
By Rafael Videla Eissmann. Mainstream, or "official" historiography recognises no ancient links between many countries worldwide, but myths and legends of sky gods, and conical headdresses represented in iconography suggest a remote connection.
SCIENCE NEWS: PARTICLE PHYSICS
By Pavel Sladkov. The Solitonic Model of the Electron, Proton and Neutron presents a challenge to the Standard Model of particle physics.
BEYOND EINSTEIN: ECE THEORY
By the Alpha Institute for Advanced Studies. A spacetime unified field theory developed by Myron Wyn Evans, known as the Einstein Cartan Evans Theory, builds on Cartan geometry to explain mysteries left unexplained by general relativity and quantum mechanics.
ANCIENT WAR: THE AUSTRALIA–INDIA LINK
By Stella Wheildon. Patriarchal systems have come to be the ruling culture in Australia in relatively recent history. Matristic starlore tells the story of an India–Australia connection, which is now also being recognised in current academia.
STRANGE TIMES: END OF DAYS PROPHECIES
Bundjalung man Trent Lynwood shares recently-received and profound End of Days messages in an interview with Duncan and Lynelle Roads—and Sylvia L. Martin's vision has some striking similarities.
REVIEWS: BOOKS, FILM, MUSIC
REVIEWS—BOOKS, reviewed/compiled by Duncan Roads
UFOs DOWN UNDER by Barry Watts
BIGFOOT NATION: The History of Sasquatch in North America by David Hatcher Childress
ANCIENT GIANTS: History, Myth and Scientific Evidence from Around the World by Xaviant Haze
EXTRATERRESTRIAL PRESENCE ON EARTH: Lessons in History by Judy Carroll
THE ORIGIN OF EVERYTHING: Uniting Science and Philosophy by David Rowland
PLANTS THAT SPEAK, SOULS THAT SING: Transform Your Life with the Spirit of Plants by Fay Johnstone
ALTERNATIVE AND INTEGRATIVE ONCOLOGY: The Reference Guide to Evidence-Based Cancer Therapies by Greg Fredericks
LUMINOUS LIFE: How the Science of Light Unlocks the Art of Living by Jacob Israel Liberman, PhD
REVIEWS—BOOKS, reviewed by Barry Eaton, RadioOutThere.com
UNDERSTANDING SACRED GEOMETRY AND THE FLOWER OF LIFE by Narada Dan Vantari
THE DARK MESSIAH: Magick, Gnosis and Religion by Brian J. Allan
REVIEWS—FILM
METAMORPHOSIS: Written and Directed by Nova Ami and Velcrow Ripper
ALBATROSS: Directed by Chris Jordan, Produced by Victoria Sloan Jordan
REVIEWS—MUSIC
NORDIC RAGA by Jyotsna Srikanth, Mats Edén, Dan Svensson & Pär Moberg
AFRICAN PANORAMA DUB by Panafricanist
AN DÀN By Mary Ann Kennedy
THE KEY OF CALM by Ian Cameron Smith