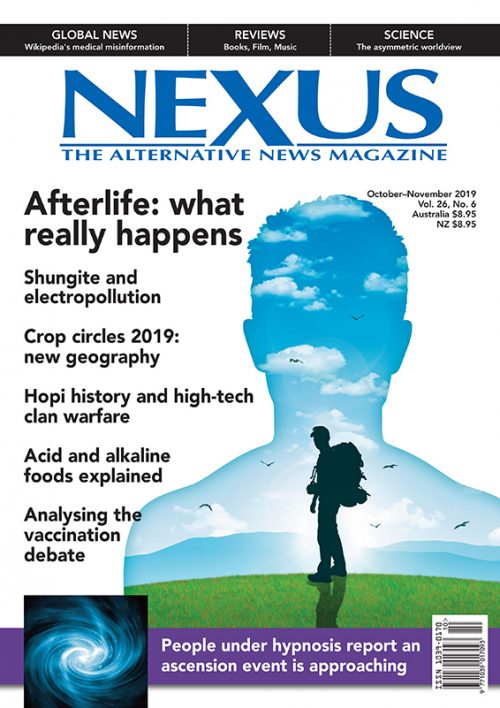 NEXUS vol. 26, no. 6 (October–November 2019)
$8.80
October – November 2019 (hard copy)
(Cover date is November–December in US/Canada)
Description
FOLLOW THIS LINK IF YOU WISH TO BUY THIS ISSUE AS A DOWNLOAD
Readers comment on Viera Scheibner's impact on vitamin C education; past articles; peace in space and asteroids; lower sea levels than 100 years ago; 5G predictions; moon landing; and NEXUS in libraries.
We report on WTC 7 collapse, cell phones and "safe" limit, caesareans and autism, air pollution, Roundup health issues and lawsuits, breast cancer and HRT, CO2 not driving Earth's climate, Assange update, China petchem deals, Wikipedia misinformation and more.
A recent post on Dr Malcolm Kendrick's blog discusses vaccination and questions why the scientific community is not prepared to even discuss—let alone genuinely address and investigate—issues that arise in relation to vaccine efficacy and immunity.
Robert G. Smith, PhD, & Andrew W. Saul set the record straight on acid and alkaline foods, how our bodies manage pH, the cancer connection, how toxins lead to acidity, and foods to promote premium health.
Led by her own curiosity, Valerie Burke's exploration into shungite finds evidence to back claims of its protective properties against ionising and non-ionising radiation, and elite shungite's health benefits; including enhancing and purifying water.
Ian Lawton presents results of his extensive research into the afterlife, drawing from reports of mediums, remote viewers, and ordinary people having near-death and out-of-body experiences, revealing the "three planes" and discussing the notion of the "supersoul".
Robert Pope discusses an asymmetric worldview challenging the current "tribal science" which is based on incorrect assumptions, therefore limiting further development in science, medicine and consciousness.
Andy Thomas reports that the crop circle tradition endures in England and beyond, but that France surprisingly produced more formations than usual this year; potentially a statement regarding the chaotic Brexit process, and/or other political issues in Europe.
Shawn Hamilton completes his series of articles on Hopi history shared by Clan of the Bear tribe historian "White Bear" Fredericks, discussing Kásskara, clan wars and technology used in the Americas, including references to spaceships and aeroplanes.
We provide a snapshot of insights revealed by hypnotised subjects in Dolores Cannon's 2008 work The Convoluted Universe, Book 3, on increasing the consciousness frequency of humankind until it hits a trigger point, known as "The Shift", or "The Event".
REVIEWS: BOOKS
THE TRIANGLE by Mike Bara
ANCIENT ALIENS AND JFK by Mike Bara
THE LANDING LIGHTS OF MAGONIA by Nigel Graddon
MAGIC AND MYSTERY IN TIBET by Alexandra David-Neel
TERMINAL CANCER: HOW I SURVIVE by Karen Alexander
OTHERWHERE: A FIELD GUIDE FOR ASTRAL TRAVELERS by Kurt Leland
DARK EMU: Aboriginal Australia and the Birth of Agriculture by Bruce Pascoe
YOUNG DARK EMU: A Truer History by Bruce Pascoe
DARK EMU IN THE CLASSROOM: Teacher Resources for High School Geography by Ashlee Horyniak and Simone Barlow
HIJACKED by Andrew A.D. Burgoyne
THE SEA OF CONSCIOUSNESS by Gerard Aartsen and George Adamski

REVIEWS: FILM
Missing 411: The Hunted Directed by Michael De Grazier
The Great Hack Directed by Karim Amer and Jehane Noujaim
REVIEWS: MUSIC
ÖNGTUPQA: SACRED MUSIC OF THE HOPI TRIBE by Clark Tenakhongva, Gary Stroutsos, Matthew Nelson
ODYSSEUS FANTASY by Karim Maurice, Will Gallison and La Camerata
JOURNEY TO ASIA by Various Artists
WHITE SWAN DREAMING by Alanna Moore