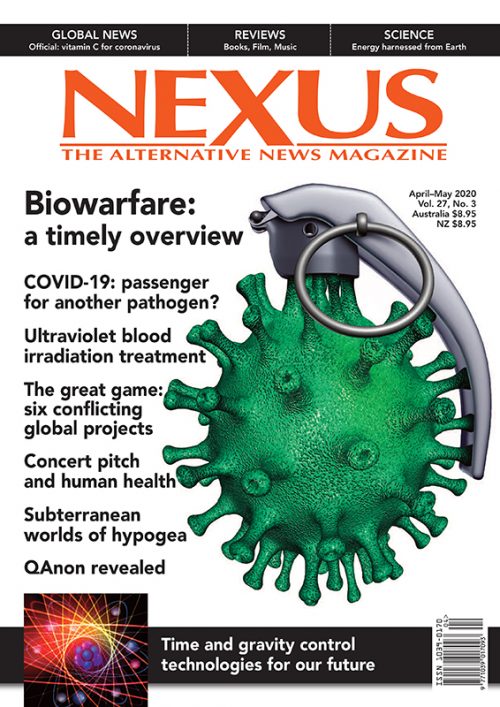 NEXUS vol. 27, no. 3 (April – May 2020)
$8.80
April – May 2020 (hard copy)
(Cover date is May–June in US/Canada)
Description
FOLLOW THIS LINK IF YOU WISH TO BUY THIS ISSUE AS A DOWNLOAD
LETTERS TO THE EDITOR
Readers comment on an "awakening", not an apocalypse; consciousness versus dark matter; hearing aid tones; Blushield technology; and CMAH gene analysis.
GLOBAL NEWS
We report on diamond batteries from radioactive waste, radiation-eating fungi, vitamin C and COVID-19, EU facial-recognition database, biosecurity powers, lab fraud and glyphosate safety evaluation, US nuclear disaster, Agenda ID2020 and more.
THE GREAT GAME ENTERS A NEW PHASE
Thierry Meyssan describes six conflicting global projects from six major world powers, including the three greats—the USA, China and Russia, and notes that each intends to defend their own interests first, before promoting their vision of the world.
BIOLOGICAL WEAPONS: A USEFUL AND TIMELY FACTUAL OVERVIEW
This first part in a series of articles by Larry Romanoff focuses on the history of the US military and its bioweapons, and reveals how the US not only created chemicals to kill individuals but also to destroy food supplies by releasing crop and plant disease agents.
PITCH BATTLES AND PHYSIOLOGY
John Stuart Reid takes a scientific perspective on concert pitch, explaining the "pitch battles" in relation to music tuned to 432Hz, 440Hz or 444Hz; the power of music; music's effect on our blood and its use as medicine; connection to the Phi ratio and more.
QUESTIONS RAISED BY THE "NEW" CORONAVIRUS
Dr Lawrence Broxmeyer provides background information on the coronavirus in the context of history and the prevalence of tuberculosis during previous pandemics and epidemics and concludes coronavirus may be just a passenger virus—the real culprit being TB.
Michael R. Hamblin, PhD discusses the potential of ultraviolet blood irradiation in the treatment of infections, as an immune-modulating therapy and as a method for normalising blood parameters—particularly with the emergence of antibiotic-resistant bacteria.
SCIENCE NEWS: TAPPING INTO THE POWER OF THE UNIVERSE
In this excerpt from his recent book, Paul W. Lander presents results from experiments carried out over 13 years using counter-rotating electromagnets, illustrating with supporting photographs that time and gravity can be harnessed to extract energy from the Earth.
THE ENIGMA OF HYPOGEA
Karen Mutton takes us into the subterranean world of the mysterious hypogea of Europe, highlighting the Hypogeum Ħal Saflieni in Malta which contained elongated skulls dating back to the Neolithic era and rooms found to have special acoustical properties.
Duncan Roads reports on the internet presence of "Q" and "QAnon", an entity releasing information about political corruption in the USA and messages from the future. He includes transcripts from YouTube videos by Austin Steinbart, who has now proclaimed himself "Q".
BOOKS
TESLA'S GERMAN AND AMERICAN PATENTS by Nikola Tesla
FASTER THAN LIGHT by H. David Froning, Junior; Edited by Tom Valone, PhD
THE POWER OF PAST LIFE REGRESSION by Steve Burgess
EARTH MOTHER DREAMING by Scott Alexander King
GOOD SUGAR, BAD SUGAR by Christopher Vasey, ND
A BURST OF CONSCIOUS LIGHT by Dr Andrew Silverman
MYSTERIES OF THE TAYOS CAVES by Alex Chionetti
SUPER CONSCIOUSNESS by Colin Wilson
WHAT THE DEAD ARE DYING TO TEACH US by Claire Broad
FILM REVIEWS
VAXXED II: THE PEOPLE'S TRUTH Directed by Brian Burrowes
WALKING WITH THE TALL WHITES Directed by Emil Marczak
MUSIC REVIEWS
TAIKO DO: ECHO OF THE SOUL by KyoShinDo
BOSSA GOT THE BLUES by Bossacucanova and Roberto Menescal
AMAZONES POWER by Les Amazones D'Afrique
AMÁLIA CLASSICS ON PORTUGESE GUITAR by Custódio Castelo