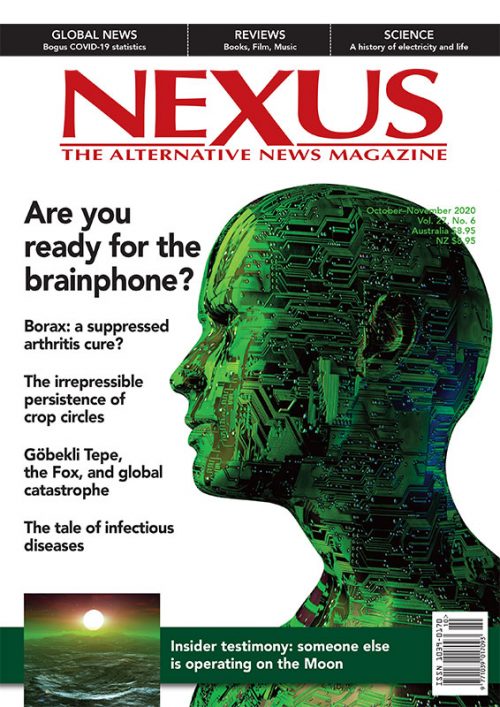 NEXUS vol. 27, no. 6 (October – November 2020)
$8.80
October – November 2020 (hard copy)
(Cover date is November–December in US/Canada)
Description
FOLLOW THIS LINK IF YOU WISH TO BUY THIS ISSUE AS A DOWNLOAD
LETTERS TO THE EDITOR
Readers comment on police states in Australia, QAnon confusions, Egregores and US politics, Kali Yuga revelations, Einstein's relativity hoax and the uncertainty of reality.
GLOBAL NEWS
We report on regulation of Facebook and Google, a polymer to merge brain with AI, microplastics found in all human organs, 5G and alternative reality, 6G developments, world population decline, the mystery of influenza, bogus COVID-19 statistics, Australian Indigenous culture dated at 120,000 years, and more.
Although Elon Musk's "brainphone" is set to possess advanced capabilities, Scott Snair, PhD warns of its potential for control, its impact on the human brain, social and cultural repercussions, the effect on human appearance, how fear will be used in its marketing, and consequences for independent free thought.
Borax: A Suppressed Arthritis Cure?
Githa Ben-David looks at the history behind the banning of borax and the role of boron in the body, from supporting absorption and delivery of calcium into bone tissue to hormone health, soil deficiency and far-reaching health successes, particularly in arthritis.
The Story of Infectious Diseases
Dr Patrick Quanten explains how medical science conceived the harmful "virus" by copying the theory that bacteria causes infections, and by jumping to conclusions and conveniently removing itself from any scientific burden required to prove causation.
Crop Circles 2020: Irrepressible Persistence
Andy Thomas brings us 2020's crop circle roundup, observing that although England had pandemic restrictions in place, more circles appeared than last year, with some incorporating references to current events, piquing the interest of a younger generation.
This issue we publish an excerpt from Arthur Firstenberg's book, The Invisible Rainbow, which illustrates the history of electricity and life, making a compelling case that many environmental problems, as well as the major diseases of industrialised civilisation are related to electrical pollution.
Adrian Ellis takes us to Göbekli Tepe's Vulture Stone, the Great Sphinx of Giza, through physics and up to the stars to illustrate how the ancients were aware of Earth's cycle of catastrophe every 12,900 years, and that according to these signs, a catastrophe is imminent.
Linda Moulton Howe shares information communicated by a Pentagon insider regarding communication towers placed on the Moon during the Apollo missions, in line with whistleblower William Mills Tompkins' assertion that the Moon is a command centre for alien intelligences.