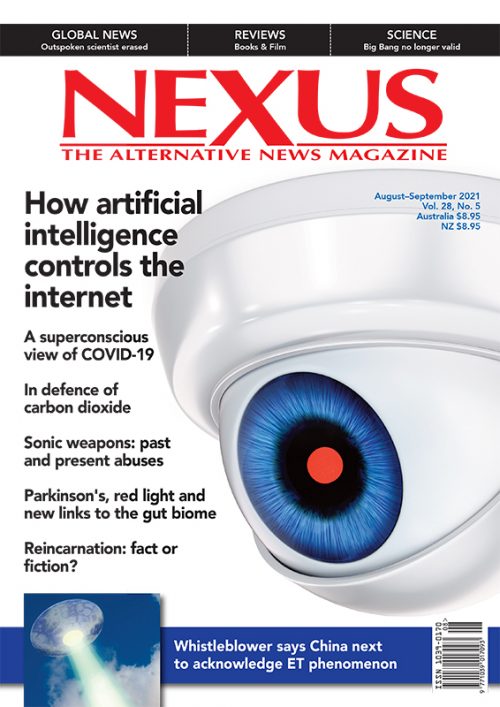 NEXUS vol. 28, no. 5 (August–September 2021)
$8.80
August – September 2021 (hard copy)
(Cover date is September–October in US/Canada)
Description
FOLLOW THIS LINK IF YOU WISH TO BUY THIS ISSUE AS A DOWNLOAD
LETTERS TO THE EDITOR
Readers comment on talking to your body for self-healing, dark matter and Earth-generated water.
GLOBAL NEWS
We report on Assange latest, a quantum microscope seeing the impossible, which two corporations run the world, CDC members' ownership of vaccine patents, advertisers targeting our dreams, outspoken vaccine inventor erased from history and more.
Gut Biome and Infrared Light
In this third instalment on groundbreaking trials with the use of infrared light therapy to reduce symptoms for Parkinson's Disease, Suvi Mahonen also reveals the links to and improvements in the gut microbiome.
In Defence of Carbon Dioxide
Matthew Ehret contests carbon dioxide as the cause of climate change, citing Climategate and statistics showing that Earth is greening with economic development, and points out scientific assumptions made along the way, plus the role of astroclimatology.
Sonic Weapons in History and Today
T.J. Coles exposes past weaponisation of sound and military experiments, the uses and abuses of this technology, including for domestic social control, and modern day accounts of invisible attacks, leading to the convenient new weapon of plausible deniability.
The New Ministries of Truth: AI in Digital Propaganda
A disturbing look by T.J. Coles into the workings of artificial intelligence and bots in managing the internet, the danger of programmed subjective bias, particularly as used by Wikipedia, Google and other corporations, including many media organisations.
Science News: Big Bang No Longer Valid
This issue Paul LaViolette's subquantum kinetics theory establishes the Big Bang theory is no longer valid, so free energy could become a reality, and his observational validation fills gaps in cosmology. We also revisit the Gemini Electric Motor technology of John Ettridge.
A Superconscious View of COVID-19
Patricia Fares-O'Malley, PhD and Peter Smith share findings of a big-picture study around the deeper purpose of the COVID-19 pandemic, and fear's role in creating an opportunity for the collective consciousness to create an awakening of humanity.
Reincarnation: Fact or Fiction?
Dr Philip Jamieson and Marianne Schmidt discuss other-life memories, the Akashic Record, "collective memory" and supporting evidence for reincarnation from psychiatrists, quantum science, and the work of Rupert Sheldrake, Bruce Lipton and more.
Strange Times: UFO Secrecy and China
An earlier interview from Earthfiles.com's Linda Moulton Howe with former US naval intelligence officer, C.B. Scott Jones becomes timely in the wake of US disclosure and Scott Jones's 2004 revelation that China would be a "quick second" to acknowledge the ET phenomenon.
BOOKS

HAUNEBU: THE SECRET FILES by David Hatcher Childress
THE GODS IN THE FIELDS by Nigel Graddon
WE'LL TELL YOU WHAT TO THINK by T.J. Coles
THE APOLLO MOON MISSIONS PART II
THE ANCIENT LANGUAGE OF SACRED SOUND by David Elkington
ANSWERING THE CALL OF THE ELEMENTALS by Thomas Mayer
THE LUMINOUS LANDSCAPE OF THE AFTERLIFE by Matthew McKay, PhD
THE KING IN ORANGE by John Michael Greer
THE ANCESTRAL POWER OF AMULETS, TALISMANS, AND MASCOTS by Nigel Pennick
LUCID DREAMING by Lee Adams
THE PERRIN TECHNIQUE by Raymond Perrin
THE MICROWAVE DELUSION by Brian Stein, CBE and Jonathan Mantle

FILM REVIEWS
The Wisdom of Trauma, Directed by Maurizio & Zaya Benazzo
The Loneliest Whale, Directed by Joshua Zeman