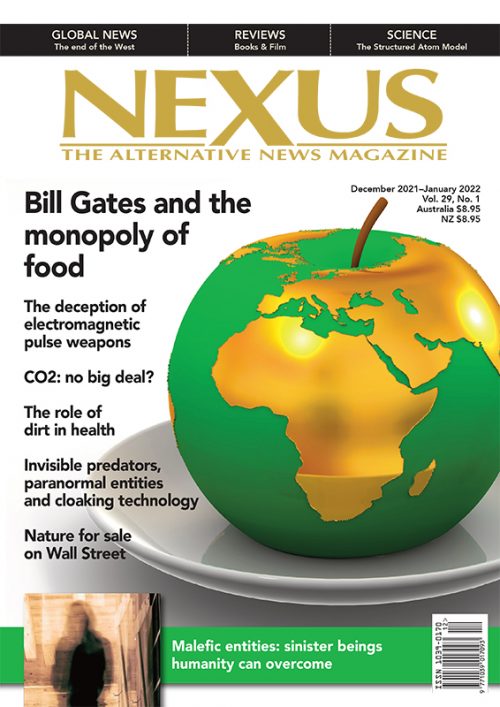 NEXUS vol. 29, no. 1 (December 2021–January 2022)
$8.80
December 2021 – January 2022 (hard copy)
(Cover date is January–February 2022 in US/Canada)
Description
FOLLOW THIS LINK IF YOU WISH TO BUY THIS ISSUE AS A DOWNLOAD
LETTERS TO THE EDITOR
Readers comment on a turning point for humanity, how children should be considered COVID-19 "vaccinated", and light beings.
GLOBAL NEWS
We report on clarified COVID-19 statistics in Italy, a brain–computer interface breakthrough, "impossible" earthquakes deep in the Earth, Pfizer's fudged vaccine trial results, the quantum sense of birds, Earth tilt in the fossil record, plant squeals, Wall Street's nature takeover, and the end of the West's dominant economic system.
Your Body is Crying Out For Dirt
Dr Joseph Mercola highlights the need for earth components in our diet for optimal gut health, and discusses the impact our obsession with sanitation and cleanliness in society has had on human health. We also provide additional information on geophagia.
Bill Gates and the Uncertain Future of Food Security
Dustin Broadbery reveals that far from being the philanthropist he purports to be, Bill Gates is a significant contributor to environmental pollution, deforestation, desertification and poverty, and if left unchecked is potentially a threat to humanity.
Electromagnetic Pulse Weapons
T.J. Coles brings to light the many capabilities of electromagnetic pulse weapons, including where and how they have been used in the past and explains how chaos may ensue without accountability—space weather and the Sun being convenient scapegoats.
Carbon Dioxide: No Big Deal
Ian Phillips breaks down research by David Coe, Walter Fabinski and Gerhard Wiegleb, whose interpretation of climate data shows that claims of carbon dioxide's ability to influence the planet's temperature have been grossly exaggerated, and are based on unsound science.
Science News: Structured Atom Model
This issue we present an exploratory model of the nucleus by Edo Kaal, James Sorensen, Andreas Otte and Jan Emming, based on the intuitive notion that the nucleus should have structural properties, and showing a clear causal relation of the outer electrons with the nucleus.
Invisible Predators
Robert Guffey explores human encounters with strange creatures, secret weapons and shadow biospheres, acknowledging paranormal phenomena while examining the technological, back-engineered aspect of invisible creatures in recent decades.
Strange Times: Malefic Entities
Julian Palmer looks at malefic entities experienced not only from induced states of consciousness, but also in daily life, and discusses attacks by these entities, techniques on how to combat them, and the importance for humanity of overcoming these sinister beings.
BOOKS

THE NEW HERETICS by Andy Thomas
GEOENGINEERED TRANSHUMANISM by Elana Freeland
JOURNEYS WITH PLANT SPIRITS by Emma Farrell
HYPERREALITY by Johanna Blomqvist, PhD
SPIRITUAL HEALING IN HOSPITALS AND CLINICS by Sandy Edwards
RAPID VIRUS RECOVERY by Thomas E. Levy, MD, JD
HIPPOCRASY by Rachelle Buchbinder and Ian Harris
UFOs, EARTHQUAKES AND THE STRAIGHT LINE MYSTERY by Ahmad Jamaludin
SICK MONEY by Billy Kenber
A COSMIC ENCOUNTER by Stewart W. Bench
A YEAR IN AN OFF-GRID KITCHEN by Kate Downham
LYME DISEASE SUCKS by Leonie Shanahan

FILM REVIEWS
SONIC SEA directed by Michelle Doherty and Daniel Hinerfield
MisLEAD directed by Tamara Rubin