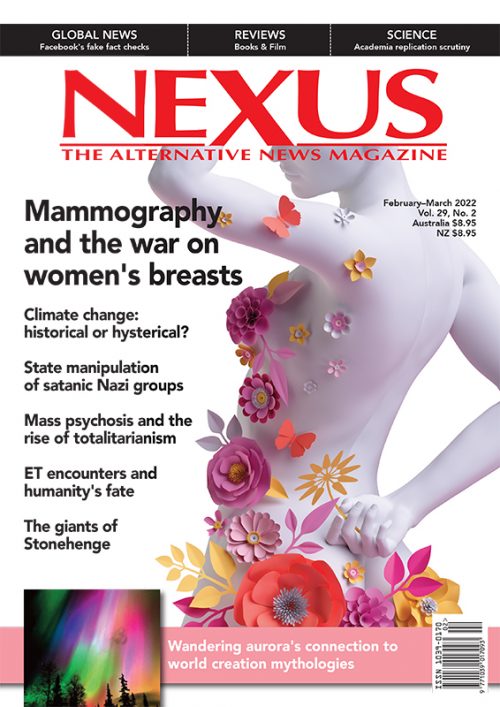 NEXUS vol. 29, no. 2 (February–March 2022)
$8.80
February – March 2022 (hard copy)
(Cover date is March–April 2022 in US/Canada)
Description
FOLLOW THIS LINK IF YOU WISH TO BUY THIS ISSUE AS A DOWNLOAD
LETTERS TO THE EDITOR
Readers comment on nanowires and CJD, the Universal importance of light, COVID-19 vaccine indemnity, and AVN mounts a legal case against the TGA over COVID-19 vaccine.
GLOBAL NEWS
We report on new US government UFO study, Chinese firms blacklisted in USA, glaciers formed in past 10,000 years, tokamak breakthrough in nuclear fusion, China's AI prosecutor, working-age deaths up 40 per cent, Facebook's fake fact checks and more.
The War on Women's Breasts
Dr Joseph Mercola exposes the billion-dollar mammography industry highlighting risks associated with mammograms, the myth of early detection, over-diagnosis of breast cancer, issues with dense breasts, radiation exposure, and safer methods of diagnosis.
Satanic and Occult Groups
Tim Coles investigates intelligence agencies using satanic and occult groups to do their dirty work, how members include neo-Nazi paedophiles as protected assets, informants and provocateurs and how these groups are another in a long line of spook PSYOPs.
Climate Change: Historical or Hysterical?
James Maxlow, PhD, compares ancient and historical global climate-related data preserved in the rock record with more recent data trends and concludes climate change is cyclical, while also noting the effect current solar activity is having on the Earth.
Mass Psychosis
Referencing the work of Carl Jung and others, After Skool and the Academy of Ideas examine mass psychosis, propaganda and the rise of social media, menticide, the elimination of freedom of thought, and the rise of totalitarianism and how to prevent it.
Science News: Replication Crisis & Michelson–Morley Experiment
Kelsey Piper looks into why academic papers are still published when their findings don't hold up under scrutiny, and Jean de Climont argues that the light experiments of Michelson and Morley to detect the aether need to be verified in space to be valid.
The Giants of Stonehenge and Ancient Britain
Hugh Newman and Jim Vieira discuss giants in the historical record in ancient Britain, including written accounts, stories of huge bones and skeletons found around Stonehenge and more evidence to suggest giants may have built the prehistoric monument.
When the Aurora Went Global
In this fascinating article, Marinus Anthony van der Sluijs takes a scientific look at the link between geomagnetic excursions triggering aurora to appear in regions not normally seen, and commonalities in the creation mythologies of ancient cultures.
Strange Times: ET Conflict About Humanity's Fate
This issue we reprint Linda Moulton Howe's interview with a woman who claims to have been abducted by a group of tall alien beings in 1983. She speaks of a conflict between Talls and Tall Controllers over humanity's suitability to be among the One.
BOOKS
THE GIANTS OF STONEHENGE AND ANCIENT BRITAIN by Hugh Newman and Jim Vieira
PYTHAGORAS OF SAMOS by Nigel Graddon
ON THE ORIGIN OF MYTHS IN CATASTROPHIC EXPERIENCE: VOLUME 1­ – PRELIMINARIES by Marinus Anthony Van der Sluijs
ON THE ORIGIN OF MYTHS IN CATASTROPHIC EXPERIENCE: VOLUME 2­ – THE EARTH'S AURA by Marinus Anthony Van der Sluijs
THE HEALING POWER OF PLEASURE by Julia Paulette Hollenbery
THE NEW WORLD OF SELF-HEALING by Bente Hansen
LSD: THE WONDER CHILD by Thomas Hatsis
TRANSFORMING DEMONS by Are Simeon Thoresen
THE ART OF SCRYING AND DOWSING by Jenny Tyson
THE DREAM VISITOR by Daniela Giordano
THE ACHILLES' HEEL OF THE BIOMEDICAL PARADIGM by James McCumiskey

FILM REVIEWS
OVERLOAD: AMERICA'S TOXIC LOVE STORY directed by Soozie Eastman
HARM—part 1: The PCR TEST DECEPTION directed by Rai Gbrym