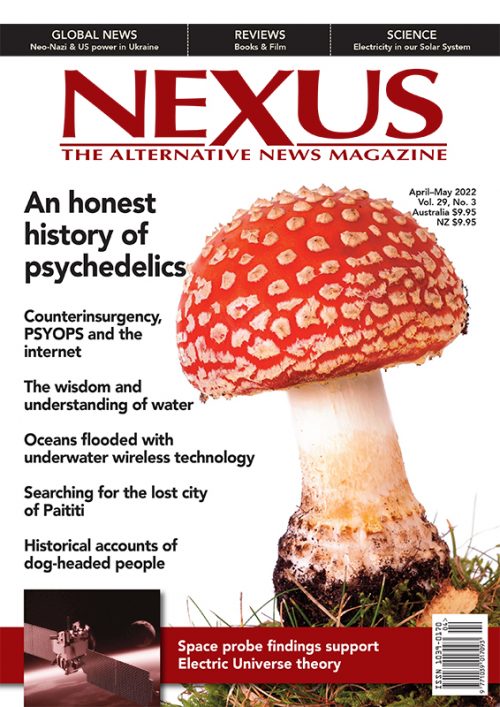 NEXUS vol. 29, no. 3 (April–May 2022)
$8.80
April – May 2022 (hard copy)
(Cover date is May–June 2022 in US/Canada)
Description
FOLLOW THIS LINK IF YOU WISH TO BUY THIS ISSUE AS A DOWNLOAD
LETTERS TO THE EDITOR
Readers comment on political emancipation, Unsettling facts refuting the "settled" science of climatology, Facebook's NEXUS censorship, aliens or mind controllers, hope for humanity and a NEXUS forum.
GLOBAL NEWS
We report on COVID-19 vaccination deaths, sound waves regrowing bones, Moderna cancer treatment's genetic match with COVID-19, WHO pandemic treaty and vaccine passport overreach of power, microwave syndrome from 5G, the global digital ID surveillance plan, US interests and neo-Nazis in Ukraine and more.
How the West Was One: Part 1
Dustin Broadbery looks at the birth of the internet and how it was developed by government and industry for PSYOPS and counterinsurgency purposes, but then steered to track and socially engineer the masses by encouraging the free sharing of personal information via social media.
The Memory of Water
Dr Philip Jamieson and Marianne Schmidt consider the extent to which scientific developments are proving possible support for the reality of water as a source of knowledge—in particular wisdom and understanding—evident in mythology, religious beliefs, folktales and other traditions.
Windows of Perception
Nikita Bryant investigates historical uses of psychedelics, the connection with consciousness and the divine, government control, the CIA's mind control experiments, recent research and recognition of the therapeutic potential of these drugs.
Ocean Antenna Grids and Underwater Wireless Technology
Greg Fredericks shares concerns for the future of the world's marine environment due to the unmonitored rapid deployment of ocean antenna grids, underwater wireless technology and the effect noise and EMF pollution could have on marine wildlife.
Science News: Electric Solar System
Stephen Smith examines evidence of etched furrows on Mercury and rilles and graben discovered on the Moon as evidence that the electric universe theory is valid, and Garry Maxfield looks at the anomaly of Mt Beerwah in the Glasshouse Mountains of Australia.
The Lost City of Paititi
David Hatcher Childress takes us on another lost cities adventure, this time in South America, looking at various expeditions through jungles and over mountain ranges throughout the years searching for the lost Incan city of Paititi and its possible treasures.
Strange Times: "Dog-Headed" People
This issue Duncan Roads has compiled accounts from historical texts of cynocephali races, or "dog-headed" people found in countries across the world such as India, parts of Europe, west of Egypt, Siberia, Asia, the Caribbean and South America.
BOOKS

AMERICAN MUCKRAKER by James O'Keefe
THE REAL ANTHONY FAUCI by Robert F. Kennedy, Jr
WETIKO by Paul Levy
THE POWER OF THE HEALING FIELD by Peter Mark Adams
THE HEALING POWER OF THE SUN by Richard Hobday, PhD
DMT ENTITY ENCOUNTERS Edited by David Luke and Rory Spowers
TUNING THE HUMAN BIOFIELD by Eileen Day McKusick
MEDICINE & MIRACLES IN THE HIGH DESERT by Erica M. Elliott, MD
LOST SOUL, WISE SOUL by Karen Joy
THE BRAINPHONE PROPHECY by Scott Snair
SUBTERRANEAN REALMS by Karen Mutton

FILM REVIEWS
BOOBS: THE WAR ON WOMEN'S BREASTS directed by Megan Smith
MERCHANTS OF DOUBT directed and produced by Robert Kenner