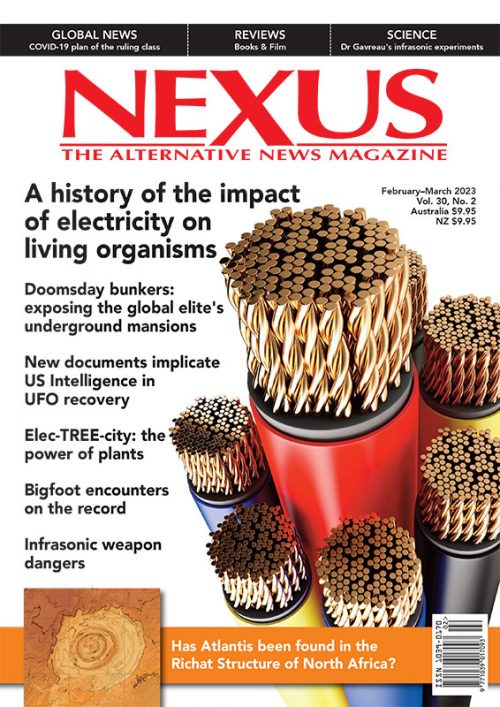 NEXUS vol. 30, no. 2 (February – March 2023)
$9.90
February – March 2023 (hard copy)
(Cover date is March–April 2023 in US/Canada)
Description
FOLLOW THIS LINK IF YOU WISH TO BUY THIS ISSUE AS A DOWNLOAD
LETTERS TO THE EDITOR
Readers comment on benzene in petrol, free energy solutions, the death of civilisations, Titanic myth, stone softening, the ether, and positive feedback for NEXUS.
GLOBAL NEWS
We report on China's Moon plans, US weapon sales to NATO, central banks buying up gold, fertilisers interfering with flowers' electric fields, Google code red over new chat bot, 30×30 land grab, CDC's COVID-19 social media censoring, DoD's COVID vax control, the ruling class's COVID-19 plan and more.
Doomsday Bunkers
T.J. Coles discovers a growing niche survivalist industry for those with the means to try to protect their families in the event of catastrophe, inspired by interest in past government-built structures designed to allow continuity of government due to nuclear disaster.
The Invisible Rainbow
This issue we expand on a previously published article extracted from Arthur Firstenberg's 2020 book tracing electricity's interaction with living organisms since its 1740s deployment and its long-term health and environmental impact relevant to today's world.
Elec-TREE-city
Robert A. Nelson discusses patents harnessing energy from trees and subsequent use of the power to stimulate the growth of other plants, successful use of trees as antennas for radio transmissions, electrical waves in plants and other plant-based electrical power.
Science News: Infrasonic Weapons
This issue we reprint an article extracted from Gerry Vassilatos's book, Lost Science on infrasound generated by natural phenomena and the experiments and research of Dr Gavreau with his creation of infrasonic devices demonstrating dangerous effects on humans.
The Bigfoot Files
Known variously as "wildman", "monster", "rock ape", or "gorilla", "Bigfoot" experiences have been recorded since the 1800s in rural America and Canada and here David Hatcher Childress shares research on this elusive creature from his latest insightful book.
UFO Recovery and Technology Transfer
Anthony Bragalia says a newly issued official congressional intelligence document making specific mention of 1947, year of the infamous Roswell crash, reveals recovered UFO technology and involvement of the US National Laboratories and private industry.
Strange Times: Is Richat Atlantis
Mark Johnston looks at the Richat Structure, also known as Guelb er Richât or the Eye of the Sahara in Mauritania, North Africa, a rock feature which has guided astronauts, inspired those seeking the lost city of Atlantis, and puzzled geologists for many years.
BOOKS

THE BIGFOOT FILES by David Hatcher Childress
MEANINGFUL COINCIDENCES by Bernard Beitman, MD
HOW TO RULE YOUR OWN COUNTRY by Harry Hobbs and George Williams
CREATING PLACES OF POWER by Nigel Pennick
GET REAL by David Munson Jr
OCCULT RUSSIA by Christopher McIntosh
PSYCHEDELIC WISDOM by Dr Richard Louis Miller
THE NATURE OF ASTROLOGY by Bruce Scofield
HOW PSYCHEDELICS CAN HELP SAVE THE WORLD, Edited by Stephen Gray
ESSENTIAL OILS FOR DENTAL HEALTH by Karin Opitz-Kreher and Jutta Schreiber, DMD
PSYCHIATRY AND THE SPIRIT WORLD by Alan Sanderson, MD
ONE NATION UNDER BLACKMAIL: VOL. 1 by Whitney Webb
FILM REVIEWS

SAFE AND EFFECTIVE: A SECOND OPINION directed by Philip Wiseman
DIED SUDDENLY directed by Matt Skow and Nick Stumphauzer