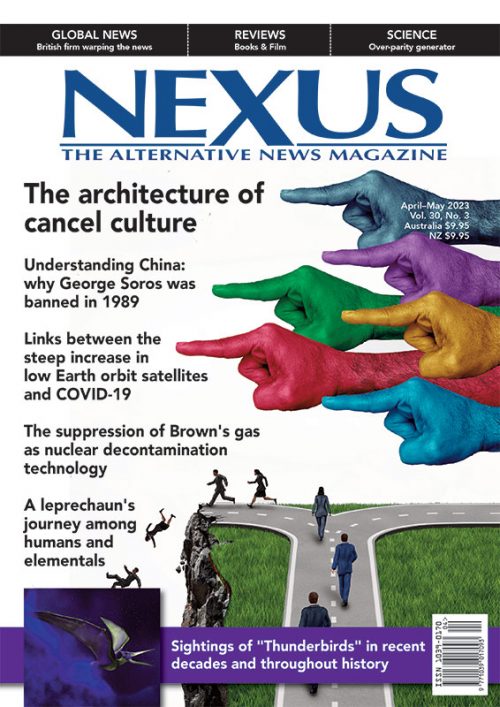 Volume 30, Number 3 – downloadable
$6.60
Volume 30, Number 3 (April – May 2023) complete issue downloadable pdf file.
Description
FOLLOW THIS LINK IF YOU WISH TO BUY THIS ISSUE AS A HARD COPY
LETTERS TO THE EDITOR
Readers comment on megalithic sites and artificial stone, a paranormal Bigfoot experience, free energy funding needed, sodium bicarbonate health success, artificial satellites of Mars, tribute to Wal Thornhill, and a free guide to death and dying.
GLOBAL NEWS
We report on banning of blood from the vaccinated, turning air into electricity, $250 billion swindled from US pandemic fund, the reversing of Earth's inner core, the CIA's part in Google, British Army cover-up in Northern Ireland, the Middle East freeing itself from the West, spy agencies shaping news, and more.
The Architecture of Cancel Culture
T.J. Coles digs deep into cancel culture to provide some scope on the current digital deranking and deplatforming trend, the effect of so-called "fact-checkers", the power of demonetising users and the shaming and shunning of conspiracy theorists.
China and the Soros Connection
Matthew Ehret provides background into the nefarious role George Soros has played in international affairs, and his attempt via Zhao Ziyang to influence Chinese policy which ultimately resulted in Soros' banning from the country in 1989.
LEO Satellites and the COVID-19 Pandemic
Jan Martel, PhD links the COVID-19 pandemic, rise of excess deaths and other health anomalies throughout the world to the massive increase of electromagnetic pollution from the launch of low Earth orbit internet satellites in late 2019 and early 2020.
Science News: Over-Parity Generator
This issue Ian Claridge describes how his "Bhagavan" generators produce more output than input via magnetic over-parity, and shares the encouraging results he has achieved, the components used and his motives for making the technology cheaply available.
Brown's Gas and Nuclear Waste
Dr Stuart Jeanne Bramhall examines peer-reviewed research and questions whether using low-cost Brown's gas as a decontamination technology is being suppressed for political reasons by the West, due to China's intellectual property interests.
The Leprechaun's Story
An excerpt from Tanis Helliwell's latest book is the story of a leprechaun known as Lloyd, whose unique journey has led him to join with other elementals in working towards partnering with humans to create a wonderful world and heal the Earth.
Strange Times: Thunderbirds
Massive bird-like creatures feature in Sioux and Mesopotamian cultures and have been reported in recent decades in Papua New Guinea and the US, with vivid descriptions from eyewitnesses in the Pennsylvania area, as Linda Moulton Howe discovers.
REVIEWS
BOOKS

CONVERSATIONS WITH BIRDS by Alan Powers
INTERVIEW WITH AN ALIENT by Steven Strong and Lea Kapiteli
THE CHRONICLES OF MEONIA by Giuseppe La Rosa
THE ANCIENT TRADITION OF ANGELS by Normandi Ellis
VISIONS OF ATLANTIS by Michael Le Flem
OZONE THERAPY FOR THE TREATMENT OF VIRUSES Edited by Marc Seifer, PhD
SIMPLE EXERCISES TO STIMULATE THE VAGUS NERVE by Lars Lienhard, Ulla Schmid-Fetzer, with Dr Eric Cobb
REVERSE ENGINEERING THE GREAT PYRAMID by Edgar Oliver Chase
THE LEPRECHAUN'S STORY by Tanis Helliwell
THE MYSTERY OF TIME TRAVEL by Obaidur Rahman
MYSTERIES OF THE FAR NORTH by Jacques Privat
SOULS ON EARTH by Linda Backman
FILM REVIEWS

SPELLERS directed by Pat Notaro
THE COSMIC HOAX: AN Exposé directed by Michael Mazzola