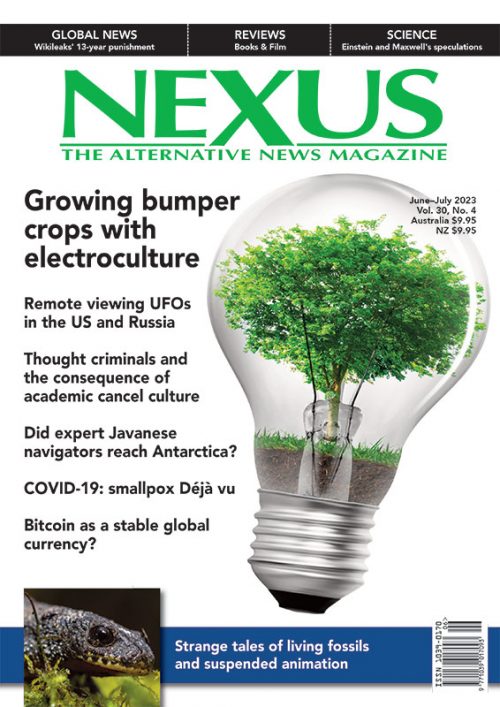 NEXUS vol. 30, no. 4 (June – July 2023)
$9.90
June – July 2023 (hard copy)
(Cover date is June–July 2023 in US/Canada)
Description
FOLLOW THIS LINK IF YOU WISH TO BUY THIS ISSUE AS A DOWNLOAD
LETTERS TO THE EDITOR
Readers comment on UFO sightings followed by trouble, visualisation vs resistance, Leprechauns and RadioOutThere.com, thanks for NEXUS, a mysterious curative plant, free speech vs AI, and predictions on Russia.
GLOBAL NEWS
We report on space boss questioning Moon landing, Russia's take on biased Western media, lost wages for vaccine refusers, the "mother-tree hypothesis", future influencing past, Assange's punishment for exposing truth, Australia outsourced to the US and more. 
THOUGHT CRIMINALS
T.J. Coles digs deeper into cancel culture, focussing on academics who have been cancelled throughout history, including the likes of Socrates and those labelled "conspiracy theorists" as a term of abuse—with the author sharing his personal experience. 
IS BITCOIN VALUABLE?
After the recent collapse of the cryptocurrency market, David Portyanskiy explores whether this form of currency has value, and concludes crypto could be more stable and transparent than cash and oil, if not for media bias and the influence of the powers that be. 
UFO REMOTE VIEWING IN RUSSIA AND USA
Jon Knowles and Daz Smith look at official unidentified aerial phenomena sightings, compare US and Russian remote viewing programs of the past, each country's position on psychic phenomena, and reveal known successes, public perception and the current situation. 
COVID-19: SMALLPOX DÉJÀ VU
Antony Brush refers to the smallpox pandemic of the 1800s to show similarities in its management to that of the COVID-19 pandemic, from the assurance and subsequent failure of vaccines to misleading statistics, shifting promises and side effects, on top of other issues. 
SCIENCE NEWS
This issue Jean de Climont discusses Einstein and Maxwell's speculations, and Andrew Mount writes of the legend of his mentor, Bruce DePalma, his position on natural philosophy and the new paradigm of science.
ELECTROCULTURE: THE NEXT BIGLY THING
Robert A. Nelson provides an overview of the use of electricity to enhance crops in modern and past times, featuring the work of pioneers in the field and includes examples of its use for pest control and results of electrolysed water and magnetoculture. 
JAVANESE NAVIGATORS IN ANTARCTICA
John Welch studies the reach of the Majapahit Empire across the Indian Ocean, noting it was renowned for its expert Javanese navigators. Welch examines symbols, language and sacred connections all pointing to the possibility that these sailors reached as far as Antarctica. 
STRANGE TIMES: LIVING FOSSILS
Kelly Bell investigates cases of living fossils and the possibility of suspended animation and hibernation in creatures such as worms, frogs, newts, beetles, and even Jurassic-looking creatures, as an explanation for some very perplexing accounts described. 
BOOKS

THE GIZA DEATH STAR REVISITED by Joseph P. Farrell
THE COVID-19 VACCINES & BEYOND by Sally Saxon, JD
BUTT HOLISTIC by Scott W. Webb
PSYCHEDELIC BUDDHISM by Lama Mike Crowley
IN PLAIN SIGHT by Ross Coulthart
THE LOST HISTORY OF MAN by Leonard Farra
HEAL YOUR ANCESTRAL ROOTS by Anuradha Dayal-Gulati, PhD
FORBIDDEN SCIENCE 5 by Jacques Vallée
LIGHT MESSAGES FROM THE PLEIADES by Pavlina Klemm
THE FIRST FEMALE PHARAOH by Andrew Collins
COMMUNICATING WITH PLANTS by Jen Frey
THE GREAT TURNING by Michael Green
FILM REVIEWS

SILENCED directed by Samantha Blanchard
SALVIA DIVINORUM: A WESTERN APPROACH directed by Erin Wyche