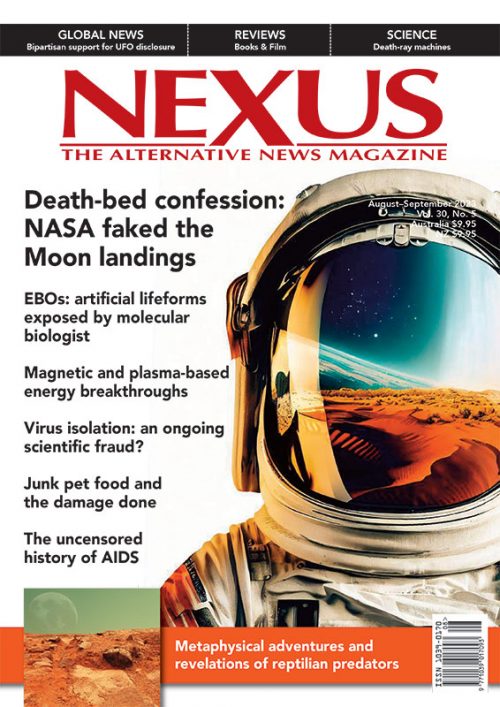 NEXUS vol. 30, no. 5 (August – September 2023)
$9.90
August – September 2023 (hard copy)
(Cover date is September–October 2023 in US/Canada)
Description
FOLLOW THIS LINK IF YOU WISH TO BUY THIS ISSUE AS A DOWNLOAD
LETTERS TO THE EDITOR
Readers comment on hydrogen generators, ancient Javanese empire, Adams' motor, and mystery healing herb.

GLOBAL NEWS
We report on a pole shift from groundwater pumping, fake studies by Nobel laureate, lawsuit against Google over copyright, vaccine deaths censored, carcinogenic aspartame, uncensored history of AIDS, Taliban elimination of CIA heroin trade, archbishop's plea for world to unite against NWO and more.
VIRAL FRAUD
In the context of COVID-19, Thomas S. Cowan, MD maintains that the method used to "isolate" a virus is problematic; that it is in fact the culture technique itself causing the effect used to prove the virus's existence, and further explains PCR testing issues.
JUNK PET FOOD
We revisit Dr Tom Lonsdale's important article on the cosy relationship between pet food manufacturers and the veterinary profession, the importance of a diet of raw food for our pets and the effect economic interests and clever marketing has had on their health.
DEATH BED CONFESSION: HOW NASA FAKED THE MOON LANDINGS
Bart Sibrel says that missing blueprints, questionable photos, deadly radiation, off-limits US Moon landing sites and the death-bed confession of an integral witness to staged filming all point to an obvious truth—humans have not yet set foot on the Moon.
SCIENCE NEWS: RAY GUNS 101
This issue Robert A. Nelson brings us a round-up of inventors who claimed to have created "death ray" machines, referring to newspaper and magazine articles from the 19th and 20th centuries that describe some frightening and disturbing effects and experiences.
NEW ENERGY BREAKTHROUGHS
Exciting potential in energy as Jeane Manning reports that a shift to using small-scale, decentralised electrical systems that work in harmony with nature is possible, with breakthroughs in magnetic motors and generators to plasma-based devices and more.
EXO-BIOSPHERIC ORGANISMS
Here we print the revelations of a molecular biologist insider who shared via Reddit how he was recruited to explain the genome and proteome basis of exo-biospheric organisms or EBOs, a modified creature he likens to Grey aliens and whose DNA we share.
STRANGE TIMES: PAN AND ME
An excerpt from Michael J. Roads' latest book features his most recent metaphysical journey, guided by the wise energy and humour of "Pan" who imparts great truths about humans all over the galaxy and beyond—and additionally the presence of reptilian predators.
BOOKS
PAN AND ME by Michael J. Roads
WESTERN HOSTILITY TO RUSSIA by Terry M. Boardman
PRACTICAL PLANTS by Steve Price
MULTI-BILLION-DOLLAR PET FOOD FRAUD by Dr Tom Lonsdale
THE ALCHEMICAL SEARCH FOR THE UNIFIED FIELD by R.E. Kretz
UNDREAMING WETIKO by Paul Levy
A NEW SCIENCE OF THE AFTERLIFE by Daniel Drasin
WE ARE ELECTRIC by Sally Adee
ANCESTRAL TALES by Paul McGrane
FEAR OF A MICROBIAL PLANET by Dr Steve Templeton
FILM REVIEWS
THE UNSEEN CRISIS directed by Cindy Drukier
PUTUPARRI AND THE RAINMAKERS directed by Nicole Ma