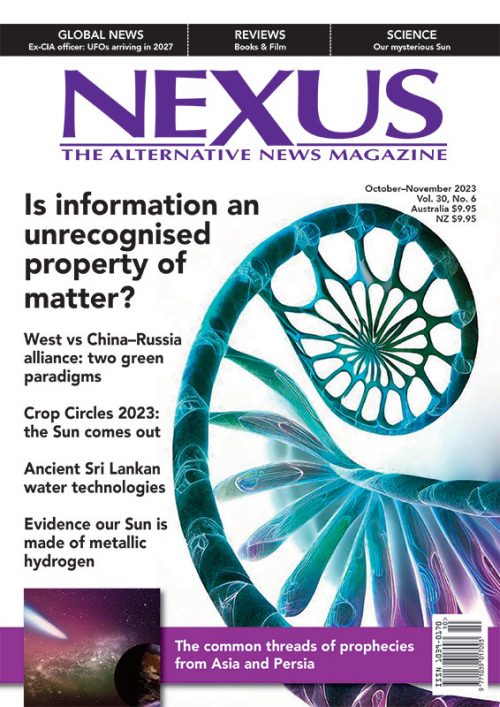 NEXUS vol. 30, no. 6 (October – November 2023)
$9.90
October – November 2023 (hard copy)
(Cover date is November–December 2023 in US/Canada)
Description
FOLLOW THIS LINK IF YOU WISH TO BUY THIS ISSUE AS A DOWNLOAD
LETTERS TO THE EDITOR
Readers comment on issues for space travel, exo-biospheric organisms, a natural approach to pet ownership, attuning to self and humans being farmed by extraterrestrial lifeforms.

GLOBAL NEWS
We report on climate rules based on a hoax, wireless radiation affecting plants, lab-grown meat made of cancer, a "no climate emergency" declaration by scientists, the gut biome role in anorexia, ETs arriving in 2027, WEF and microchips, Wikipedia as a government warfare tool, US banks failing and more.
IS THE MULTIPOLAR ALLIANCE "CONTROLLED OPPOSITION"?
Matthew Ehret examines the theory that China, Russia and allies are just controlled opposition by the West, but deeper investigation reveals that although the rivals may be using similar green terminology, the connotation attached is significantly different.
THE WAVE NATURE OF THE GENOME
Ulrike Granögger reveals that there is much unknown about the electromagnetic information and signal that travels upon the DNA molecule and that changing the biochemistry of DNA or RNA without first understanding the wave nature of the genome could be problematic.
SRI LANKA'S ANCIENT WATER TECHNOLOGIES
Karen Mutton chronicles Sri Lanka's sophisticated ancient water management system involving "wewa" or reservoirs, in place from 400 BCE. By working with natural cycles and community farming, wewa kept the country successfully irrigated for two thousand years.
SCIENCE NEWS: OUR MYSTERIOUS SUN
Stephen J. Crothers argues that the Sun is not a gaseous plasma, as only condensed matter can produce the same visible spectrum observed of the Sun, and that in fact the evidence is overwhelming that the Sun is comprised of metallic hydrogen.
CROP CIRCLES 2023: THE SUN COMES OUT
Andy Thomas provides commentary on this year's formations, noting a slight increase in quantity, some symbolism relating to circles of the past and a renewed public interest in the mystery, amidst official revelations on unidentified anomalous phenomena.
STRANGE TIMES: ASIAN PROPHECIES
Robert Nelson looks at various Asian and Persian prophecies and the association they have with religion and a common thread of impending misery, peril or doom followed by great hope and enlightenment with the assistance or direction of heroic saviours.
BOOKS

THE COSMOS IN STONE by Tom Bree
VITAMIN D3 AND THE GREAT BIOLOGY RESET by Professor David Coussmaker Anderson with Dr David Stuart Grimes
COFFEE OR CHEMO by Edina Atkinson
MISTAKEN MESSIAHS by Paul McGrane
A HISTORY OF CENTRAL BANKING by Stephen Mitford Goodson
THE MYSTERY OF DOGGERLAND by Graham Phillips
KARMA AND REINCARNATION IN THE ANIMAL KINGDOM by David Barreto
THE VISIONARY ART OF NICHOLAS ROERICH by Jacqueline Decter, PhD
DEATH NESTING by Anne-Marie Keppel
LYMPH HEALTH by Christopher Vasey, ND
CATCHING THE ASCENSION WAVE by Bob Frissell
THE LIQUID SUN by Alexander Unzicker
FILM REVIEWS

MILKED directed by Amy Taylor
THE SEEDS OF VANDANA SHIVA directed by Camilla Denton Becket and James Becket