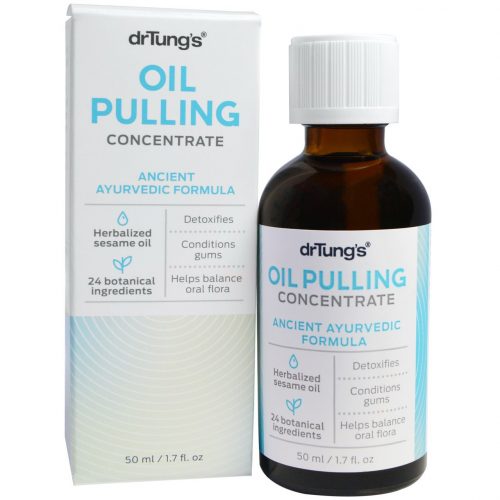 Oil Pulling Concentrate
$24.95
Dr Tung's Oil Pulling Concentrate 50mL – Ancient Ayurvedic Formula
Strengthen Teeth and Gums – Contains 24 Plants and Herbs – Vegan and Cruelty Free
Description
Dr Tung's Oil Pulling Concentrate with 24 Botanical Ingredients to cleanse your mouth, condition gums and remove bacteria, available online at Flora & Fauna. 
DrTung's Oil Pulling Concentrate is a time-tested remedy of 24 plants and herbs used for oil pulling and an authentic Ayurvedic formula!
Ancient Ayurvedic texts recommend OIL PULLING as part of your daily routine, to strengthen teeth and gums, help with mouth dryness and other oral conditions. Sesame oil is specifically mentioned for its subtle, penetrating, preventive and balancing effects.
Unlike some other oil pulling products, DrTung's Oil Pulling Concentrate does not contain mint to provide flavour but is an ancient recipe of selected plants and botanicals chosen for their treatment qualities and carefully prepared in organic sesame oil.
Directions
Use undiluted, or mix contents with 5 oz. organic sunflower, sesame (not toasted) or coconut oil—i.e. 1:3 ratio
Swish daily after tongue cleaning and toothbrushing:
  Place 1 tbsp mixture in mouth
  Slowly swish it around the mouth and "chew" on it for 5–15 minutes
  When done, do not swallow but spit into toilet (not into sink)
  Rinse your mouth with lukewarm, saline water
Ingredients
Sesame oil (organic), acacia nilotica*, ficus religiosa*, wild himalayan cherry*, cardamom extract (organic), banyan tree, acacia catechu*, lodh tree*,indian madder*, eagle wood*, indian gall-nut*, indian gooseberry, gmelina arborea*, long-leaved pine*, spikenard*, stone flowers, sandalwood*, woodfordia fruticosa*, deodar*, licorice*, clove*, lotus seed, lemon-grass, turmeric, nutgrass, nutmeg, cinnamon, camphor.
* Wild harvested