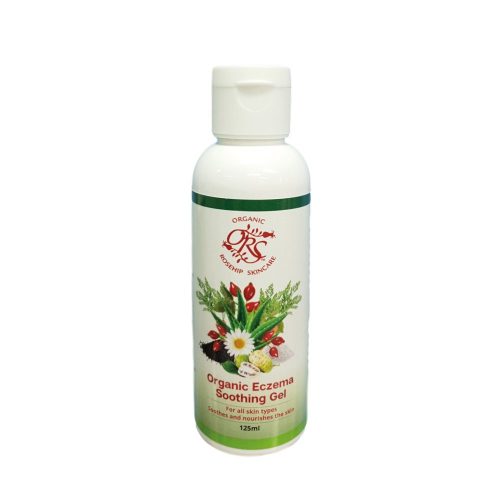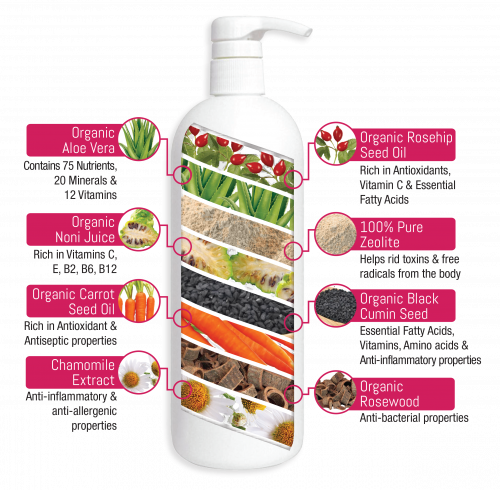 Eczema Soothing Gel
$54.00
Organic Rosehip Skincare's Eczema Cream 125ml soothes dry, itchy skin and improve appearance of redness & scaling.
Description
Eczema is a skin problem that causes itching, dryness, fine scales or flaking, and at times mild redness. It can also be a mild skin irritation that does not need any medical treatment, nut sometimes it may cause constant itching and scratching. Scaly, raw, or thickened skin may appear due to the itching cased by eczema. Eczema can be caused due to excessive dry skin, allergies caused by food or medicine, hot baths or showers in unhygienic water, soaps with chemical contents, tight clothes, drastic changes in temperature or humidity, emotional imbalance, etc. Usually an area of fine, dry scaling occurs on the arms or legs in case of mild eczema that may or may not itch.
Anyone who suffers from eczema can tell you how hard it is to find a product that will provide more than just temporary relief. Our Organic Rosehip Eczema Cream soothes dry, itchy skin and improve appearance of redness & scaling.  With our unique blend of organic herbs, flowers, vitamins, plants and minerals, our Eczema gel is a natural anti-inflammatory and antiseptic gel to relieve the skin for itching and burning.
Helps with a variety of skin conditions such as eczema, psoriasis, flaky skin, dry skin and sensitive skin.
Suitable for men, women, children & babies
Helps to hydrate and soothe the skin
Helps to reduce red and itchy skin
Rich in Essential fatty acids, antioxidants, herbs & minerals
Helps to reduce the appearance of scars
Rich in vitamins A, B1, B2, B6 and B12, Vitamin C and E, folic acid and Niacin
Assists in soothing wounds, burns and minor skin problems
Our active organic raw ingredients are of the highest quality ever put together
Organic Rosehip Skincare has been manufacturing since 1993, to bring the purest and the highest quality ingredients to care for people's skin. Nancy Evans is the founder, formulator and manufacture of Organic Rosehip Skincare, she is also a Nutritionist, Aromatherapist and Rosehip Oil Specialist. Due to her son's severe skin and eczema allergy caused by harmful chemicals in the environment, she has produced a unique program that is highly beneficial for allergies, eczema and sensitive skin. Nancy's son was allergic to all synthetic chemicals found in skincare, food and also the toxic environment.
INGREDIENTS: Organic Rosehip Seed Oil, Organic Aloe Vera, 100% pure Zeolite Powder, Organic Noni Juice, Organic Black Cumin Seed Oil, Organic Carrot Seed Oil, Xanthan Gum, Organic Rosewood Oil, Organic Chamomile Extract, Organic Niaouli, Vegetable Glycerine.
OUR ECZEMA TIPS
Change your lifestyle through eating organic foods and avoid sugars and artificial colours.
We recommend a daily intake of omega 3, 6, 7 & 9 which can be found in our Organic Sea Buckthorn Oil.
Avoid washing in chlorinated water, it can flare up and irritate people with sensitive skin. We recommend using a shower and bath filter for the skin.
Using an organic soap for the skin is essential. Chemical soaps can dehydrate and flare up allergy skin. We recommend using our Organic Shampoo and Body Bar, which can be used as a cleansing bar, soap and shampoo.
Drawing out toxins from the skin is a great way to relieve inflammation and nurture the skin. This can be achieved with our Organic Rosehip Face & Body Peel.
Lymphatic drainage through massage provides detoxification of the entire body. Use our Organic Eczema cream to relieve, soothe and hydrate the skin.