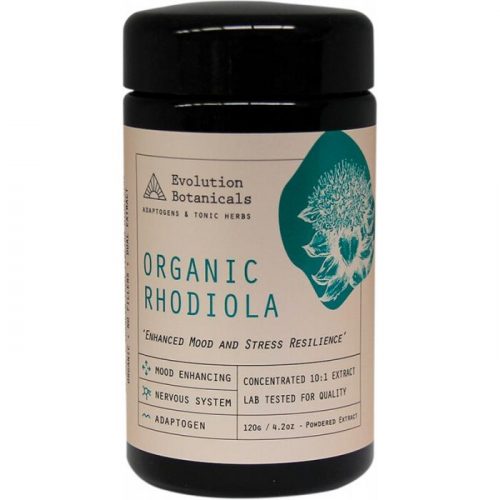 Organic Rhodiola Extract
$47.95
Evolution Botanicals organic Rhodiola extract (10:1) 100g
Enhanced mood and stress resilience
Description
Rhodiola is a premier Adaptogen capable of boosting energy levels, mood, and endurance in times of increased stress or peak performance. Rhodiola is an adaptogenic stimulant the can give an activated or bright feeling in the body and mind.
BENEFITS
– Improved mood
– Rhodiola may assist with mild anxiety and depression
– Improved athletic performance & endurance
– Improved cognitive performance and endurance
– Increased resistance to stress
– Greater sense of energy
– Adrenal Health
– For Fatigue Issues
Rhodiola is a great aid to sports people, students, those with mood issues, anyone who is busy with life and needing some extra support with energy levels.
Our Rhodiola is sourced from an organic farm in the Tibetan Himalayas. This Rhodiola is a 10:1 extract, meaning 1 gram of dried extract is equal to 10 grams of dried herb.
Product Quality
Size
120g Powdered Extract (Miron Glass) / 500g powder (Stand Up Pouch)
Extract Strength
10:1 Extraction ratio

This means 1 gram of our extract is equal to 10 grams of dried Rhodiola.

Organic
Yes. Our Rhodiola is sourced from a USDA certified organic farm and is processed in certified organic facilities.  Our Brand will be certified in 2021.
Part Used
The dried root of Rhodiola rosea is used to create this extract
Origin
Himalayas, Tibet, China

Our Rhodiola is organically cultivated in a mountainous Himalayan region of Tibet. Rhodiola thrives in harsh climates and exposure to these elements is thought to enhance Rhodiolas potency.

Quality Testing
Every batch of our product is lab tested for over 250+ parameters to ensure it is free from any nasties like heavy metals, pesticides, hydrocarbons, or contaminants. This product is processed to ISO standards in a GMP (good manufacturing practices) certified facility.