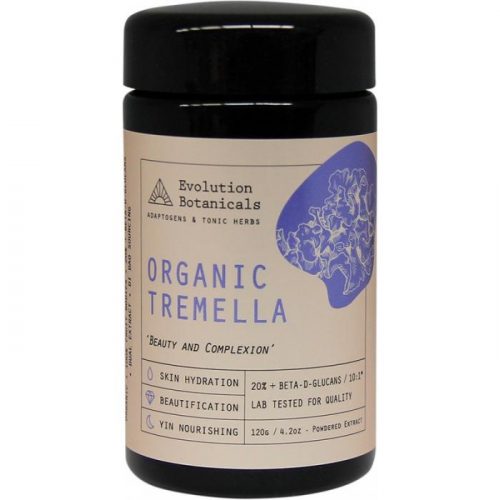 Organic Tremella Extract
$68.95
Evolution Botanicals organic Tremella extract (10:1) 100g
Beauty and Complexion
Description
Tremella is a delicious Yin nourishing herb famed for it's ability to improve complexion and hydrate the skin by women of the orient. Tremella is also a Yin lung and stomach nourishing herb. Tremella tastes divine, very sweet malty taste and is a great addition to any tonic ritual.
KEY BENEFITS
– Skin Hydration via Hyaluronic acid content.
– Cooling
– Lung & Stomach Yin tonic
– Immune enhancing Beta-D-Glucans
– Fantastic tasting
Product Quality
Size

120g Powdered Extract (Miron Glass) / 500g powder (Stand Up Pouch)

Extract Strength

10:1 (indicative) + 20% Beta-D-Glucans

This means 1 gram of extract is equal to 10 grams of dried Tremella fuciformis.

Organic

Yes. Our Tremella is certified USDA organic.  Our Brand will be certified in 2021.

Growth Substrate

Hardwood Sawdust

Why is this important? The growth substrate for Medicinal Mushrooms greatly alters the quantity of active medicinal compounds in the product. 

Part Used

100% Fruit Bodies.

Why is this important? The fruiting body of the mushroom contains the highest quantity of active medicinal compounds. Some manufacturers add the mushroom mycelium to the product as a filler, this is the root system of the mushroom (called hyphae) and has less medicinally active compounds. Our product is free from all fillers.

Origin

Gutian, China.

Cultivated indoors using organic cultivation protocols.

Quality Testing

This product has been standardised to contain 20% + Beta-D-Glucans from Tremella fuciformis. All our products are tested to ensure the highest quantity of medicinally active compounds, we are one of the few companies who do this expensive product validation.

Every batch of our product is lab tested for over 250+ parameters to ensure it is free from any nasties like heavy metals, pesticides, hydrocarbons, or contaminants. This product is processed to ISO standards in a GMP (good manufacturing practices) facility. We take no shortcuts to ensure quality.