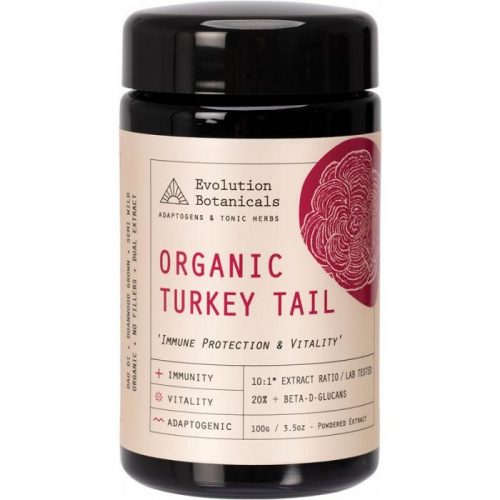 Organic Turkey Tail Extract
$68.95
Evolution Botanicals organic Turkey Tail extract (10:1) 100g in miron glass jar
Immune protection & vitality
Description
Turkey Tail mushroom is a potent immunological tonic that can deeply nourish our Qi and Jing. Turkey Tail is often used by those seeking immune support, those suffering from fatigue and low energy and for improving gut health.
Key Benefits
– Immunological Support
– Gut Health
– Potent Source of antioxidants
– Anti-Fatigue/ Source of Qi energy
– Jing Nourishing
Ingredients:
100% Turkey Tail Extract | 10:1 Extraction Ratio | Dual Extracted | Certified Organic | No Fillers | Semi-Wild Cultivation | Duanwood log grown
Product Quality
Size

100g Powdered Extract (Miron Glass)

500g powder (Stand Up Pouch)

Extract Strength

10:1 (indicative) + 20% Beta-D-Glucans

This means 1 gram of extract is equal to 10 grams of dried Trametes versicolor (Turkey Tail)

Organic

Yes. Our Turkey Tail is certified USDA organic.  Our Brand will be certified in 2021.

Growth Substrate

Our Turkey Tail is grown on hard wood logs (Duanwood) using semi-Wild cultivation methods.

Why is this important? The growth substrate for Medicinal Mushrooms greatly alters the quantity of active medicinal compounds in the product. Turkey Tail has the most bioactive compounds when grown on Duanwood. 

Part Used

100% Fruit Bodies.

Why is this important? The fruiting body of the mushroom contains the highest quantity of active medicinal compounds. Some manufacturers add the mushroom mycelium to the product as a filler, this is the root system of the mushroom (called hyphae) and has less medicinally active compounds. Our product is free from all fillers.

Origin
Greater Khingan Mountain Range, China.

Cultivated using Semi-Wild cultivation practices

Quality Testing

This product has been standardised to contain 20% + Beta-D-Glucans from Trametes versicolor. All our products are tested to ensure the highest quantity of medicinally active compounds, we are one of the few companies who do this expensive product validation.

Every batch of our product is lab tested for over 250+ parameters to ensure it is free from any nasties like heavy metals, pesticides, hydrocarbons, or contaminants. This product is processed to ISO standards in a GMP (good manufacturing practices) facility. We take no shortcuts to ensure quality.